How Long Does It Take to Remodel a Bathroom?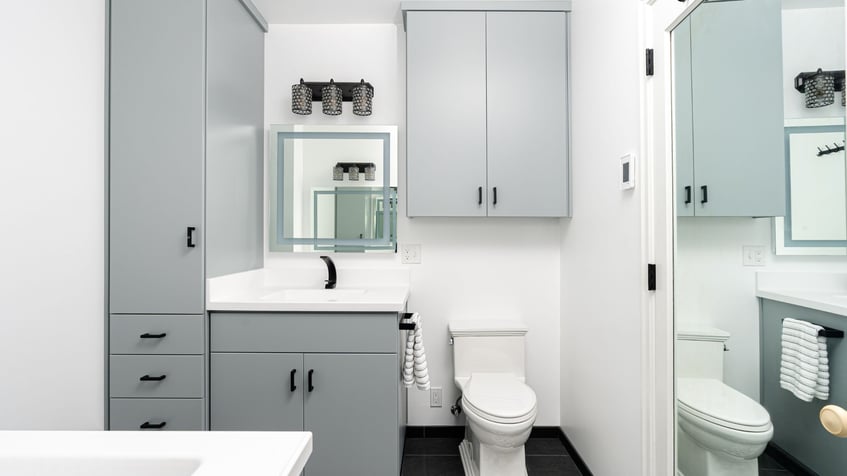 The first question on the mind of every bathroom-remodeling homeowner is, "How much is this going to cost?"
While that is an important point of inquiry — one you can find the answer to in our bathroom costs blog — it isn't the only question you should be asking.
Another often-overlooked piece of information that's helpful to know is a typical bathroom renovation timeline.
Understanding your project timeline is crucial to deciding when to begin the remodeling process. It's also necessary so that you can plan your life around having one less bathroom — a challenge that could spell chaos for some families without proper forethought.
So, after cost, your next question should be, "How long does it take to remodel a bathroom?"
That's the topic Kraft Custom Construction is diving into today.
How Long Does It Take to Redo an Entire Bathroom?
Bathroom remodeling typically takes between one and six months, depending on the type of project.
One to six months is a wide range, we know. You can narrow it down by assessing the significant factors influencing remodeling timelines.
Condition
Every remodel starts with what you already have. So, begin by considering the condition of your current bathroom.
Your bathroom may need a complete head-to-toe makeover if you live in an older home or the majority of the space needs updating. You'll likely have to start by gutting the bathroom entirely to make room for a new shower, vanity, and other upgrades. Once your remodeler strips down your bathroom, there is a possibility they could find structural damage such as dry rot or outdated plumbing and electrical lines. Fixing those issues while the walls are open is a smart and valuable move, yet it will add extra time to your remodel.
For this reason, older or totally outdated bathrooms often take longer to remodel than newer ones.
Size
The bigger your bathroom, the longer a remodel tends to take. The same tasks that could be relatively quick in a small bathroom — such as painting, floor installation, and tilework — become more time-consuming with each extra foot, increasing your timeline.
Some homeowners also decide to expand their bathroom during a remodel. Doing so can significantly add to the project length, as your builder may need to excavate and pour new foundation, build new wall and roof framing, and complete other related tasks.
Project Scale
Think of project scale as the size of the results you wish to accomplish in your remodel. Are you just looking to refresh your bathroom with new tiles, a fresh coat of paint, and update few other elements? Then you want a minor bathroom remodel, which only takes a couple months to finish.
Or do you want to change the entire layout of your bathroom, add a freestanding tub, invest in new lighting, install a walk-in shower, put in heated floors, and make other significant changes? If that sounds like the remodel you have in mind, you're looking at major bathroom remodeling.
Major remodeling takes closer to six months to complete — significantly longer than simple cosmetic changes.
Keep in mind these timelines may or may not include the design and planning phase - a crucial step in developing a smooth and stress-free project.
Material Delays
Remodeling requires your builder to order specific materials, fixtures, and utilities to meet your needs. When these items arrive has a significant bearing on your project timeline. Unfortunately, there's no guarantee that the materials will arrive when estimated, so your builder should be proactive in researching lead times and scheduling the project accordingly. The pandemic created supply chain chaos, material delays, and shipping backups. Though the industry is slowly inching its way back to normal, you should know that these problems could impact your project.
The best way to avoid material delays and other related issues is to place your orders as soon as possible. At Kraft Custom Construction, we work with our clients to help them make material selections they love early on in the process; that way, they arrive in plenty of time and don't slow us down. Even if delays impact your project, we do our best to adjust our construction timeline so we can continue working on other aspects of your bathroom while waiting for the necessary materials.
How to Speed Up Your Remodel
Remodeling, like any investment, takes time. However, it's natural to want to get your bathroom upgrades underway quickly. We'd be worried if you weren't excited to get going on your dream bathroom! You can do a couple of things to help speed up the process.
Determine What You Want
As we discussed earlier, scope plays a considerable role in your remodel. Take time to decide how much you want to change your bathroom. Then, do some research and make a list detailing what bathroom looks you love and what trends you want to avoid.
Try to envision your bathroom transformed. What colors are prevalent? Do you have classic subway tiles or a natural stone alternative? How does the flooring feel underfoot? What kind of lighting is glowing from above? Write down as much information as you can and hand your list over to your designer when it comes time. This insight will be invaluable to your remodeling team and will speed up the entire design process!
Know What You Can Afford
It also helps to consider what you can afford. Take stock of your finances and figure out how much you feel comfortable spending on bathroom upgrades. Use this Salem Remodeling Cost Guide to get started.
Don't Wait: Begin Your Bathroom Remodel Today
Looking for a more specific answer to, "How long does a bathroom remodel take?"
Get your answer by consulting with a local builder.
When you begin working with Kraft Custom Construction, you receive a total bathroom remodel timeline upfront, once the project scope has been determined. Our team is there to answer any questions you have (timeline-related or otherwise) and support you throughout the process.
Plus, the sooner you get started on your remodel, the sooner you can enjoy living life in your new and improved dream bathroom!