7 Tips for Timeless Bathroom Design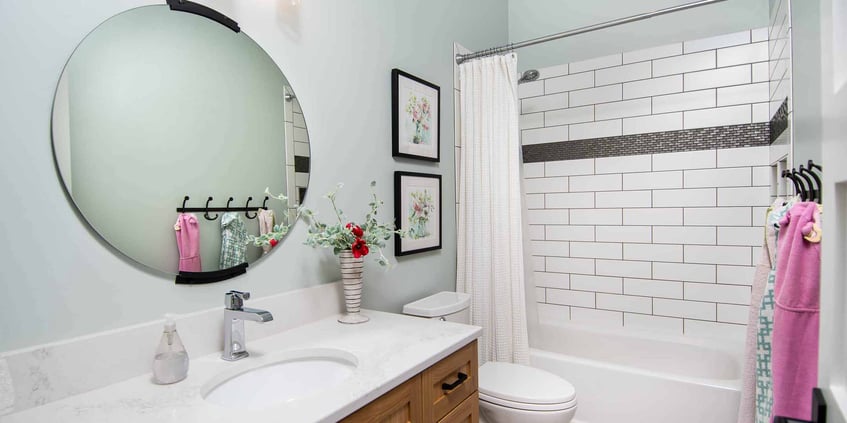 It seems that every month offers more and more new home design trends that are all too tempting to try in your own home. Some are quite the commitment while others are little updates here and there. If you're planning a new custom home or a bathroom remodel, we're here to help you stick to timeless designs to avoid feeling design remorse when you've grown tired of the latest trend. But don't worry, depending on your preferences, we can also include just a few non-committal trends that will be easy and affordable to update in a couple of years, too. 
1. Subway Tile and Penny Tile
Subway tile and penny tile have been around for over a century and have seen a big resurgence in popularity over the past couple of decades. The timelessness of these tiles is still going strong in bathrooms with no signs of stopping. Subway tiles offer a clean look and glossiness that helps to bounce light around the space, which is great for bathrooms that tend to not have much access to natural light. Use them on the entire wall behind the vanity or shower walls for a classic yet ever-trending look.
Penny tile is simply perfect for bathroom floors. The small size and bordering grout lines offer a naturally non-slip surface. White is a great go-to that won't go out of style, but you can also mix it up with patterns or add a pop of color throughout. A mostly white palette with tiny clusters of black to break it up, is a classic.   
2. White Paint
While all-white bathrooms have gone out of style over the past couple of years, different shades of white are still a common color choice for the walls. It's calming and easy, seeming to never really go out of style. As the at-home spa bathroom has become a popular aesthetic, white offers the perfect background for pulling off this minimal and tranquil design. Choose a white paint with a semi-gloss finish to make for easy cleaning.
3. Freestanding Bathtubs
Several years ago, homeowners began doing away with the bathtub to make room for large walk-in showers. Since then, they've also experienced remorse for getting rid of this timeless classic. It's why we're seeing a resurrection of the freestanding tub – a design that celebrates the feature and offers a focal point in a bathroom. Also in line with the spa bathroom design, freestanding tubs give your bathroom an atmosphere of relaxation. Go for the classic clawfoot tub, or take advantage of the latest innovations and upgrade your tub with smart features like heated walls, sound bath features, or a tasteful version of the jetted tub.  
4. Frameless Walk-In Shower
Frameless glass-enclosed showers aren't going anywhere and are timeless for their ability to blend into any design style. They're also easier to clean than framed showers and allow you to show off the tile work on the shower walls. A frameless  walk-in shower can be as compact or as large as your bathroom allows. In a larger bathroom, your shower can include a bench, multiple shower heads, and body sprayers. 
5. Luxe Marble
Lots of other surface materials come and go, but marble has remained as
a
top material for
nearly every
surface in the bathroom. A solid slab of marble for the vanity top is both easy to clean and beautiful. Also, marble comes in a variety of shades and veining, like green, black, white, gray, and even shades of pink. For a striking accent, choose a darker color with bold contrast veining and let this be the stand-out feature against an otherwise monochromatic bathroom. 
Marble tile can be used as flooring and on the shower walls. On the floor, choose a smaller basketweave pattern that will provide frequent grout lines to create a non-slip surface.
6. A Furniture-Style Vanity
Floating vanities and other minimalist designs are great for contemporary bathrooms where less is more. However, if you don't have access to nearby storage for towels, a receptacle for dirty clothes, and toiletries, your sleek design can cause a lot of frustration over time. Choose a vanity with both characters and plenty of storage. If contemporary is your style, something with clean lines, slab front doors, drawer fronts, and minimal hardware will offer the best of both worlds. For a more lived-in look, a natural wood vanity that has the appearance of a free-standing piece of furniture will have a timeless appeal that can be painted over time to suit your changing tastes.    
7. Chrome or Brushed Nickel
Brushed gold had its big moment and is still a go-to choice for many designers. Matte black also came onto the scene in a big way and also still enjoys some popularity. But the metals that never left many designers' minds are chrome or brushed nickel. Chrome is a cool tone while brushed nickel pairs well with warm tones. They may not have been the most popular choice over the past few years, but they are a mainstay as the metals that go with absolutely any style. Not to mention, these metals are offered in many more styles and price points than other tones. 
2023 Trends to Try in Small Doses
Trends can be a lot of fun to try in your home, however, they should be used in small doses so they can easily be changed out when you're ready to move on.
Color
The 2023 Pantone color of the year is a rich and vivid hue called Viva Magenta. It's a deep pink with blue undertones that could easily blend with both cool and warm neutrals. Use this trending color on towels and small rugs. You could even paint the frame of your vanity mirror this color and repaint it or replace it when the time comes.
Brushed Gold or Matte Black Fixtures
If you are interested in experimenting with more trending metals, your fixtures and hardware are the places to do that. When you're ready to change them out, it won't be a big investment or too difficult of a task.
Statement Wall
The greatest innovation for a quick update to a room was peel-and-stick wallpaper. The easy-to-apply wallpaper can completely change the look and feel of a room. Bold geometric patterns, classic florals, textured wallpaper, or a full mural can be applied to a single wall for a bold accent. Or, in a half-bath, apply the wallpaper to every wall to create the classic jewel box atmosphere. Either way, you'll be able to remove the wallpaper when you want a change without too much extra work.  
TIMELESS DESIGN FOR YOUR SALEM, OREGON

BATHROOM
When you're interested in a timeless design in your bathroom, you'll want to hire an experienced design-build team that can deliver any vision you can imagine. Kraft Custom Construction has a reputation for keeping our client's design goals at the center of the entire process. We're a boutique company that is designed to give you a personalized experience, no matter if you're experimenting with today's trends or prefer to stay with the tried and true elements. Contact Kraft Custom Construction to schedule a consultation and learn more about our process.