Is It Better to Buy or Remodel In 2023?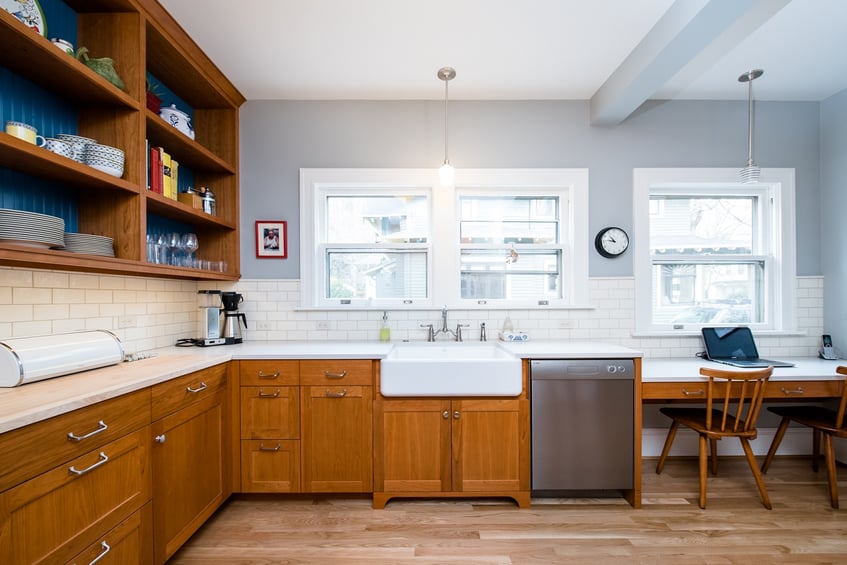 Are you dreaming of a bathroom oasis in your primary suite, extra room for overnight guests, a recreational getaway in the basement, or an outdoor living area that offers an excellent spot for entertaining friends and family?
If you're like most homeowners that are looking for an upgrade but skeptical of the current housing market, you may be wondering if it's better to move or remodel in 2023. Learn everything you need to know about buying a home in 2023 and why a remodel is the better option for getting the home you need.
Forecast: Is It Better to Buy or Remodel in 2023?
By now, many of us are aware of the news around inflation, mortgage rates, low housing inventory, and rising housing prices. In short, the combination of these issues has created a climate that makes buying a home in 2023 less than ideal. For more of an explanation, we'll break down each of these factors.
Housing Prices & Inventory
Homes are still in demand but the inventory is low, which has driven prices up and they are stubborn to come back down, creating a seller's market. Buyers far outnumber sellers, creating competition and bidding wars.
A healthy housing market has a six month supply of available homes to meet demand. As of January 2023, there are only 2.9 months of supply. Without the typical housing increase in the spring and summer of 2022, inventory remains low, keeping prices high.
Mortgage Interest Rates
Why is inventory so low? Many homeowners are unwilling to sell and trade their low mortgage rates for a record high rate. Rates are a bit better in January 2023 than the latter part of 2022, but 6% is still much higher than where many homeowners currently have their rate–around 2.5%.
Inflation
As inflation rose, the Federal Reserve raised interest rates to curb it. Even though the Federal Reserve's move doesn't affect mortgage rates directly, mortgage lenders do take certain economic issues into consideration when determining rates for homebuyers–like stock markets, job growth, and inflation. Mortgage lenders decide their lending rates based on economic uncertainties.
It's Better to Remodel Than to Buy in 2023
If you're feeling tired of your dated kitchen and cramped living room, too few bedrooms, and inadequate space for weekend guests, you may have considered upgrading to a new home. However, in 2023, with high mortgage rates and overpriced homes, remodeling your current Willamette Valley home is the better option.
Low Housing Inventory Means Compromising on the Home You Need
You're not likely to find your perfect home on the market. To check off your wish list and must-haves, remodeling your current home is the best option, particularly when housing inventory is low. The right amount of bedrooms and bathrooms, your ideal living space, a luxury primary suite retreat, and a perfect place for guests may be difficult to find with so few homes available.
Get the Home You Want with a Whole House Remodel
Many homeowners assume that the remodel they'd need to make their home more functional and comfortable is unrealistic. This is why consulting with a talented designer to help you envision your ideal remodel is integral to deciding whether or not a remodel is right for you. With 3D modeling software, you will be able to see your home transformed, with a new layout, additions, an open floor plan, and anything else that would make your current home more suitable for you and your family.
Increase the Value of Your Home
A remodel will also increase your home's value. This way, if you do decide that a move is best in a few years when mortgage rates and home prices are lower, your listing price will give you more leverage for your future home purchase. And, chances are, if you find your home's inadequacies create frustration, a potential buyer will see these inadequacies as well, causing your home to remain on the market for longer than you'd like.
A kitchen remodel and expansion, creating an open floor plan, adding a bathroom, creating an outdoor living area, and increasing your home's curb appeal are great ways to boost home value and buyers' interest. Ask your designer and a trusted realtor for guidance on what finishes and features tend to hold their value. Choose timeless designs and details that won't go out of style within the next five years.
A Remodel Means You Won't Have to Leave Your Neighborhood
Besides the benefit of avoiding a bidding war and packing up your entire home, you'll also avoid having to leave a community you've come to love, a great school district, a convenient commute, and necessary amenities, like your favorite grocery store or fresh seafood market. For a whole home remodel, you will have to temporarily relocate, but after a few months, you'll have the perfect home with all the space you need in the style you want.
The Remodel You Need with the Right Design-Build Team
A whole home remodel sounds like a large undertaking–and it can be. However, with the right remodeling team, your experience can be stress-free with the outcome being your perfect home. For the best home remodeling experience, choose to work with a design-build firm.
Your Willamette Valley home remodel can be taken from consultation to completion with one team. You'll have one point of contact, one source of accountability, and the most accurate price estimate. With one team from start to finish, you'll also greatly reduce misunderstandings and miscommunication. Kraft Custom Construction is a boutique design-build firm that has delivered home remodels impeccably designed and expertly crafted for the past 40 years. Contact us to schedule a consultation, learn about our process, and discover what a remodel can do for your home.