How Long Does It Take to Remodel a Whole Home?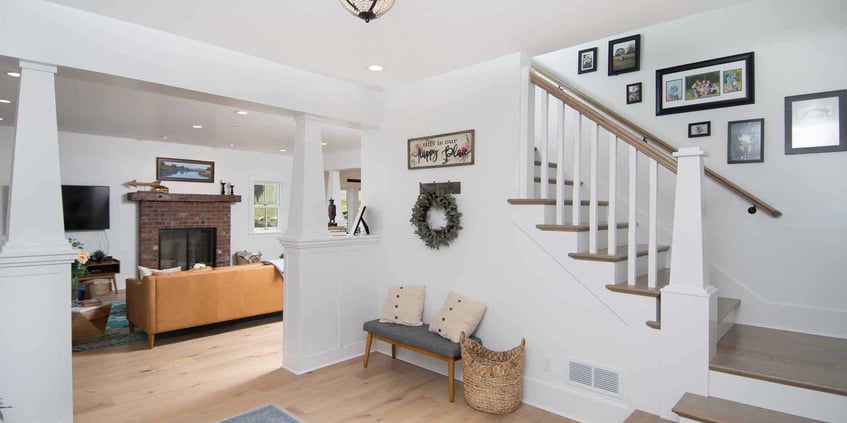 A whole home remodel may sound like an intimidating experience, especially if you've not experienced a remodel before. Questions about cost, what's possible, and how long it will take are common, so we're here to help make things a little more transparent. The timeline for each whole home remodel will vary, but with knowledge and experience, we can lift the veil and give you an idea of what to expect for your remodel in Salem, Oregon.
How Long Does It Take to Remodel a Whole Home?
Remodeling timelines can be difficult to pin down. The size of your home, its age, the extent of your remodeling goals, and other factors will all have an effect on your remodel's specific timeline.
However, a range of whole home remodels can be a good starting point. Usually, an estimated timeline, from concept to completion, for a smaller home remodel can take from 7 to 12 months to complete while a larger home can take from 9 to 16 months. To further understand what takes place during these timelines, we've broken down the process, phase by phase. 
Research & Interviews (2 weeks to 2 months)
The first phase is in the hands of you, the homeowner, and will cover all the research and interviews you'll want to do before your project can begin. The timeline will depend on your availability to research professional design and build teams, read reviews, look over their portfolios, and schedule interviews to find the best fit for you and your project. 
Assessment & Design (2 to 3 months)
You've identified a team that can deliver your design and remodeling goals with the quality and level of service you're looking for. Next will be your initial assessment. Someone from the team will visit your home to get an idea of your home's starting point in reference to your remodeling goals. You will walk them through your home and you'll communicate your home's challenges, your family's routines, and how you use or would like to use – each space, identify your design style, and talk about ideas for solving those challenges. 
This is also when the designing will begin. Based on your consultation, home assessment, and follow-up design meeting, the designer will create drawings or renderings to visualize the remodel. Be sure to ask plenty of questions and take your time looking over every detail. This is the time to identify any discrepancy between your goals and the proposed remodel design. 
Be prepared to make a lot of decisions during this phase. Everything from flooring to light fixtures will need to be chosen. There are a lot of options available for every material choice in your home, so the more information your designer has about your style goals, the better they can narrow down the decisions you will have to make.
Pre-Construction (2 to 8 weeks)
Your design-build team will handle the paperwork, but it's a great idea to familiarize yourself with the permitting process so you'll know what to expect. There are several avenues the permitting process can take depending on the departments or associations you'll have to go through. 
With your design plans in hand, approval from your HOA, city planning department, or possibly your historical preservation office will be sought. Each office organization will require different timelines depending on its protocol, meeting dates, or application backlog. Keep in close communication with your design-build team to understand the expected timeline for these applications. 
Ordering materials, aligning schedules, and hiring subcontractors are also part of pre-construction. Depending on the scope of work for your remodel, specialty trades may also be involved, which can usually mean professionals with sometimes lengthy lead times.
Construction (6 to 12 months)
The construction phase is made up of a heavily synchronized schedule of construction crews, tradespeople, and vendors. Your project manager oversees the construction of your home remodel and updates you on the daily progress. 
The timeline is such a large range because it will depend on the size and age of your home and the scope of work. If any complications arise, this may lengthen the timeline. However, many experienced contractors will build some cushion of time into your project's timeline just as you would build a cushion into your budget for many of the same reasons. 
What Can Affect Your Whole Home Remodel Timeline?
Remodeling timeline delays can result from factors that are both directly and indirectly linked to the project. Here are a few common culprits of timeline delays to be aware of as well as a few ways you can participate in keeping your project on track.
Weather
Bad weather is no one's fault, of course. When inclement weather arrives on your project site – be it rain, ice, snow, or worse – it can halt progress at best and cause damage at its worst. Unfortunately, there's nothing to stop the weather, so being flexible and understanding will go a long way, for both yourself and your crew. If your remodel is taking place during a particularly active time of year, be sure to talk to your builder about building extra days into your timeline. 
Construction Permits & HOA Delays
As mentioned, the process for receiving permits and approval can range depending on backlog, protocols, and meeting dates. Usually, during these periods, your contractor can prepare for your project in other ways, so a delay of a couple of weeks can still be productive in other ways.
Older Homes
Older homes tend to need more upkeep and maintenance. When that's not done, a remodel will serve as the time to catch up on the work that should have been done years prior. The age of a home and a record of the work that has been completed helps identify what's behind the walls, but your contractor won't know for sure until demolition begins. 
Old wiring, plumbing, shoddy DIY repairs, water damage, and the like can add to your timeline if its presence wasn't previously known. An allowance may be built into the budget to account for unforeseen costs associated with these issues, but your timeline may be extended. 
Communication
It's important to be available to communicate with your design-build team as much as possible. Significantly delayed communication can delay finalizing the design, receiving building materials, and important problem-solving to move a project forward. This is where you can positively or negatively affect the timeline of your whole home remodel, so be sure to let your project manager know if another method of communication is better or if you'll be unavailable so issues can be handled before that time. 
Change Orders
Change orders are a result of scope change. When a material is swapped out, when a different trade is necessary to install the product or material, or when the schedule changes to accommodate it, this can result in a delay. In some cases, the homeowner initiates the change order due to a change in material or design. To avoid this being the case, take your time during the design phase to be sure that every design goal and detail is being met in the design before it's finalized to avoid changes once construction begins.
Your Unique Whole Home Remodel in Salem, Oregon
Understanding the timeline of a whole home remodel can be comforting when deciding to make the investment of both time and money. You may also be left with more questions, which can be answered by a design-build team that's experienced with whole home remodels like yours.
Kraft Custom Construction has been designing and building for homeowners in Salem and Portland for many years, delivering beautiful high-end spaces with the care only a boutique company can offer. We run on communication and trust, working hard to ensure our client's remodeling experience isn't only stress-free, but also fun. Contact Kraft Custom Construction to schedule a consultation and discuss your whole home remodel.