What Is Design-Build?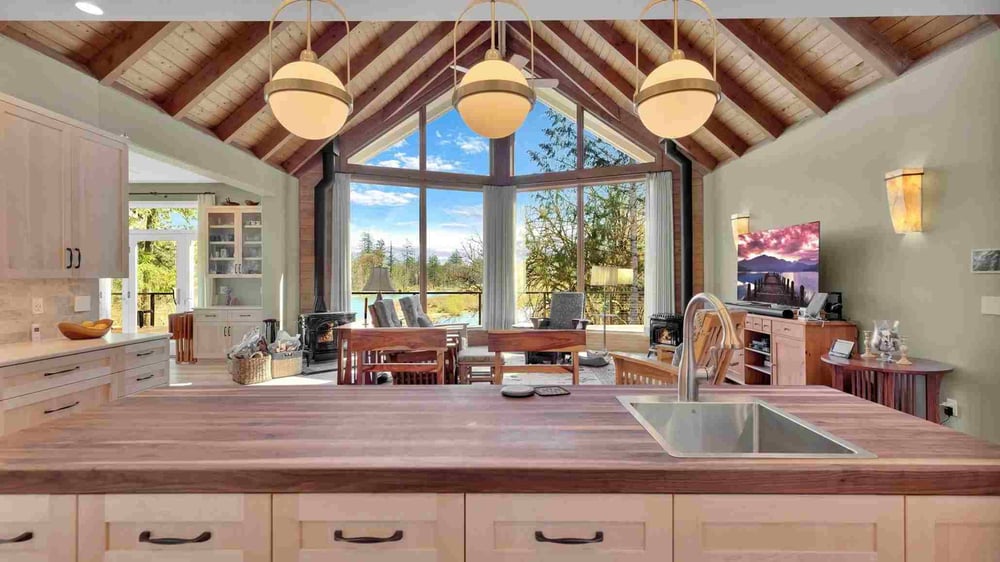 The key to choosing the best professionals for your custom build or home remodeling in Salem, OR, is understanding your options — and design-build is one of your best options.
Learn the basics of design-build, how it compares to other processes, and what benefits it offers with Kraft Custom Construction!
What is the Process of Design-Build?
Design-build is a project delivery system in which one company fulfills both the design and construction services for your home build or remodel. Though considered by some to be a modern advent (after all, the term "design-build" wasn't coined until 1993), the methodology has been around for centuries under the term master builders. Master builders — like Filippo Brunelleschi, who crafted the iconic dome of the Florence Cathedral in Italy in the 15th century — were skilled in every aspect of construction and design. Their expertise and hands-on work in every facet of the project led to the construction of some of humankind's greatest architectural achievements. Master builders only fell out of fashion when a highly-specialized workforce encouraged by the industrial revolution became the norm; now, it's back in style, resulting in the design-build renaissance.
While the design-build process varies slightly depending on the company you work with, there are generally five main steps. Here's a look at our five-step design-build process.
To see this process in action, visit our video gallery.
How Is a Design-Build Contractor Different from Other Home Building and Remodeling Contractors in Salem, OR?
The other most common project delivery system that Salem contractors offer is design-bid-build. So what is it?
Design-bid-build is the "traditional" project delivery system. Under this methodology, you work with two separate entities to complete your home project: an architect for design and a contractor for construction. You start the process by finding your designer and working with them to draw up the plans; you then seek bids on the designs from local contractors and eventually settle on a contractor to build. More time and cost is dedicated up front in this model because the architect needs to detail out their drawings so each contractor knows what to bid on. Or, if you work with an architect to only develop basic concepts for design before seeking bids, you may not get apples-to-apples bids, making it difficult to compare your options.
Design-bid-build puts a lot of responsibility on the homeowner. First, you have to assess and sign agreements with two different entities. You also have to be the connection point between the two parties. If your contractor has an issue with the plans (which is more common than you might think), you're responsible for trying to sort out the problem. Since no party takes full responsibility for the final product, you're left in the middle trying to hold the project together.
The modern design-build method was created to solve the problems that abound from lack of communication and collaboration in the design-bid-build process. Take a look at the advantages of design-build to see how we accomplish this.
What are the Advantages of Design-Build?
We chose design-build as our business model at Kraft Custom Construction for a reason: because we believe it provides a better experience and product for our clients.

Here are a few reasons why we believe a design-build remodel or custom home project is better than the alternative:
Cost Stays Consistent
Our design-build process puts emphasis on up front planning and thorough communication from the start. Instead of going through the whole design stage and then getting shocked by the costs of the project, we like to be collaborative along the way. Having construction professionals in the room as the designers are creating the plans means they can raise concerns early on, provide a different perspective, and can make suggestions to help lower costs, ensuring the price for the project is accurate upfront. Put simply, when the whole team brings their strengths to the table from the start, there's less confusion, surprises, and changes during construction.
Curious about costs? Learn how much it takes to make your remodel real with kitchen, bath, and whole home remodeling costs from Kraft Custom Construction.
Timely Project Completion
A 2021 survey by the Design-Build Institute of America asked a pool of 279 construction managers, designers, engineers, and other industry stakeholders to associate a variety of benefits with either design-build, or design-bid-build. The survey found that 73% of participants identified design-build as the methodology most associated with a predictable and manageable schedule; 89% said design-build was the option most likely to allow the fast-tracking of a project. This is because one company manages the timeline and workflow under one roof versus coordinating the schedules of multiple parties.

That means design-build interrupts your life less than other project delivery methods, so you can start living a better life in your new home faster!
Better Teamwork Better Homes
We firmly believe that collaboration between you, the homeowner, and all the professionals working on your project is essential to success. Design-build benefits this process because your team already knows one another when you enter the picture. You also meet and work with all your team members from day one, so they get to know your needs and wants during the consultation phase and can carry your input with them throughout the project.
Full Accountability
If something goes wrong in a design-bid-build project, there tends to be a lot of finger-pointing between your architect and contractor. No one takes full responsibility for the project, so the burden lands on you. You're the one at risk.

That's not how we do things in design-build. When we put our name on a project, we put our reputation on the line. We don't stop until you're delighted with your home and then some. Full contractual responsibility is on our shoulders, so you know we won't walk away if things get tough. You can have peace of mind and sleep well, knowing your home is in our hands.
Creating Your Custom Home with Design-Build
Whether you want to remodel or build a new home, design-build empowers you to create the home you've always wanted. Start your search for the right design-build company today by contacting Kraft Custom Construction.
Talk to us about your homeowner dreams; we'll make them real.