What Does a Kitchen Remodel Cost in Salem, Oregon? [2023]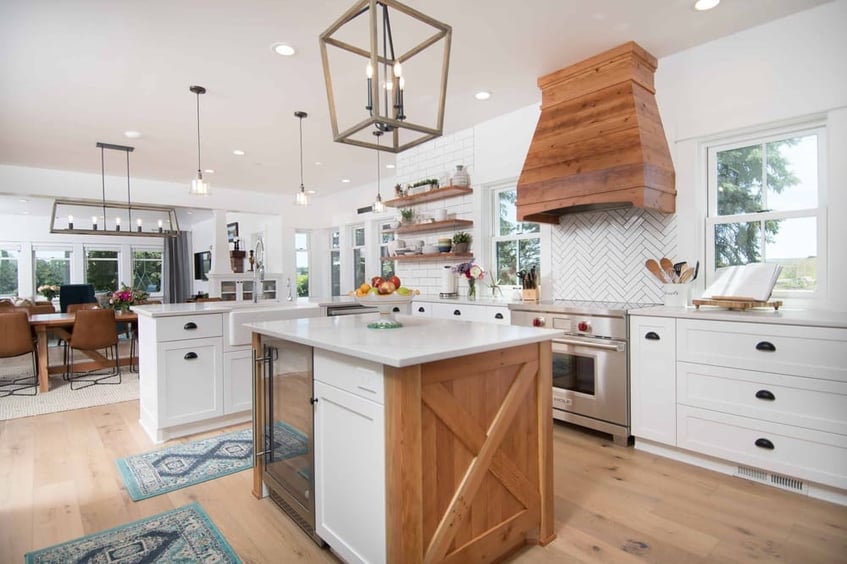 The cost and scale of your kitchen remodeling project go hand in hand. The more extensive the scope of your project, the more expensive it is, and vice versa. Before you get too far along daydreaming about the possibilities, it's best to set expectations around price and what you can expect kitchen remodeling in Salem, OR to include.
Here is where Kraft Custom Construction comes in. Home remodeling is what we do. Get an inside look at the factors that impact price, what kitchen remodeling entails, and how much it can cost in this blog with us as your guide.
Kitchen Remodeling Cost Factors
All kitchen remodeling projects start with three main factors: what you have, what you need, and what's in your budget.
Kitchen Condition
To determine what you have, take a look around your current kitchen. How old is it? How big? What kind of updates or repairs does it need? Ask yourself whether you need to rip everything out and start anew, or if you can keep the base of what you have and just revamp. Let these answers serve as the foundation of your kitchen remodeling project. From there, you can decide what you're aiming to accomplish with your remodel.
Remodeling Goals
Your remodeling goals are a combination of your kitchen needs and wants; they also directly impact your project cost. You can get away with few expenses if you only desire minor changes, while major improvements require a significant investment.
Consider what's driving you to seek out a kitchen remodel in the first place. Is it because your kitchen is too small? Maybe you're sick of the outdated look? Overcrowded cabinets mean you need more storage; a lack of preparation space may lead you to want a kitchen island, peninsula, or butler's pantry.
Budget
Once you get clear on what you want and need from your remodel, it's time to see what you can reasonably achieve within your budget. Dive deep into your finances to determine a price tag you feel comfortable with, and a means of financing the project. Create a budget accordingly. Your kitchen remodeler will help you in the budget-setting process; still, there are steps we recommend all homeowners take:
Research kitchen remodeling costs

Prioritize expenses based on your wants, needs, and budget

Consider the services you'd like to be included

Think about alternatives, either in material selections or the scope of the work, in case adjustments need to be made to align with your budget

Factor in the prices of eating out or alternative living arrangements while your kitchen is out of commission

Add about 10-15% to your budget for discovered conditions or future changes you might want to add as you see the remodeled space come together
Keep these considerations in mind as we review kitchen remodeling costs and the results your investment yields.
Market Prices & Inflation
Market influences can also affect costs. Every remodeling project can involve products and labor from up to 20 companies, with every one of them setting their own costs. Inflation will push and pull these costs for every individual company, which will be factored into your final kitchen remodel price.
complete luxury Kitchen Remodel Cost:
$125,000 - $225,000+
The exact cost of your project comes down to the factors we outlined above, but for the premier, full-scale kitchen remodeling services offered at Kraft Custom Construction, prices range from about $125,000 to $225,000+.
With a major upscale remodel, you rip away dated cabinets, flooring, counters, and potentially some walls, and replace them with optimal alternatives. Refresh your kitchen's look and make layout changes, in addition to replacing outdated features with new innovations. Opting for an upscale remodel gives you high-quality materials, superior craftsmanship, and ultimate personalization. You will have fully customized cabinets with accessories like organizational drawer inserts, pull-outs, soft-close hinges, etc. Upgrades to the flooring and fixtures will improve both the functionality and longevity of the space, including items such as professional-grade appliances, an undermount sink, designer faucet, heated tile flooring, and other top-tier choices. An upscale remodel also features quality, durable finishes such as a stone countertop and a glass or ceramic tile backsplash. In addition to being long-lasting, these improvements are beautiful. With these options and more, you can create a timeless look with superior functionality you'll love for years. Not to mention top-notch service to make the experience enjoyable!
Remodeling your kitchen in Salem, Oregon
The estimates and costs we reviewed here are a starting point to work from. But nailing down the specifics is essential to bringing your kitchen remodeling vision to life. Whether you're dreaming of a curated kitchen look, renovating a historic kitchen, or updating a few of the finishes, talking to a local design-build contractor is the next step toward your remodeling goals.
Talk to us about your kitchen remodel today; with over 40 years of home design and construction under our belts, the Kraft Custom Construction team translates your ideas into results. Our full-service process means we're there for you from the beginning of design until the day you move in. A two-year warranty on our work and finishes lets us continue supporting you even once construction is completed.
Need to see proof of our process? We have plenty. Hear from our clients firsthand, explore our one-of-a-kind projects, and get a behind-the-scenes look at our operations by visiting our video gallery!