8 Timeless Kitchen Design Trends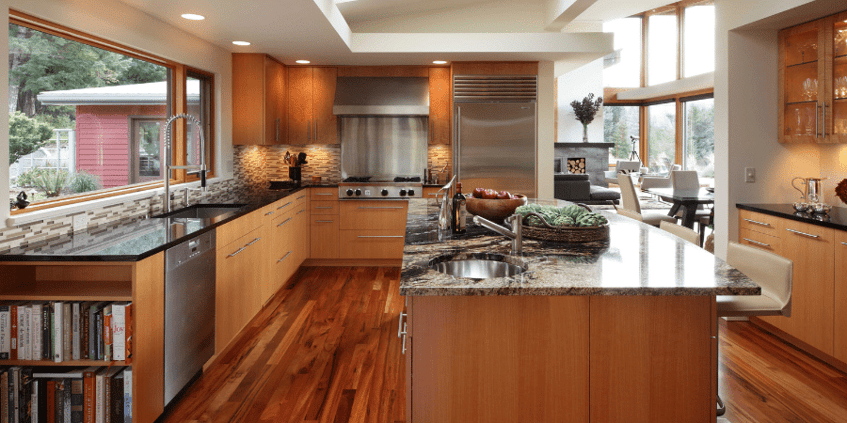 A kitchen remodel is one of the largest investments you can make in updating your home, so you might be worried about your kitchen feeling dated in only a few years after the work's complete. It's tempting to lean into every trend that comes into view, but remodeling your kitchen using timeless design trends that you'll love for years is a great way to feel confident about your design choices. What are the design elements you should include in your kitchen remodel that you can make without the remorse?
1. Quartz Countertops
Quartz countertops have risen to become one of the most popular go-to countertop materials for homeowners and designers alike. The look rivals marble but offers predictability in color, veining, and sheen. Because quartz is made, not mined, it's also less pricey than natural stone slabs. Quartz can be created in a variety of colors, from bright white to stark black, and everything in between.
Quartz is also more durable, handles heat well, and is easier to maintain. The material is also less porous, meaning it is far less likely to host bacteria and other microbials you wouldn't want near your food much less on it.
2. Open Concept Kitchens
It's no surprise that open concept kitchens are here to stay. Since the modern movement in architecture, homeowners have enjoyed the benefits of a non-enclosed cooking space. You get to enjoy the connection with others in the central part of your home, whether it be your own family during the mealtimes or guests who come to visit. Further, open concept kitchens lend well to incorporating an island, or even two. An open concept also allows more natural light into a space, a feeling of airiness, and makes entertaining a little easier.
3. SUBWAY TILE BACKSPLASH
Subway tiles have also been around for a while–a century, that is. The versatility of subway tiles makes them easy to use in a plethora of design styles. The classic running bond pattern that subway tile is typically laid in, best for timelessness. As for grout, different colors, like black or gray, will come and go, but white is classic.
The reflective nature of ceramic subway tile also serves as a vehicle for bringing more natural light into your kitchen. This is great because kitchens are notorious for limited wall space for windows. You also won't have to worry about your tile being discontinued if one were to crack. You can count on subway tile being available for quite some time.
4. Custom Storage
Prefabricated cabinets in the kitchen simply don't work for all, if not most, homeowners. For years, kitchen designs have leaned more and more toward custom configurations that offer unique storage options. An appliance garage, slide-out shelving, deep drawers with dividers, in-cabinet electrical outlets, and pull-out garbage and recycling bins have proven they are worthy of the long haul!
5. Luxury Vinyl Tile Floors
Hardwood floors are beautiful, but they require maintenance and don't withstand the abuse a kitchen floor must endure. Luxury vinyl tile, or LVT, flooring has come a long way and can be made to mimic the texture, color, grain, and warmth of real wood. Luxury vinyl tile is incredibly durable in how it's made today, as well. The color availability of this ever-popular flooring material spans from very light ash to nearly black, and from cool to warm tones.
6. Shaker Style Cabinets
Shaker-style cabinets have also been around for more than a century but really gained popularity in the last 20 years. Minimalist, raised panel, and other styles have come in and gone out of style, but the simplicity and transitional design of a shaker cabinet blends in well with many kitchen design styles.
7. Combo Custom and Task Lighting
Bringing both form and function into a space is key in any room. In the kitchen, however, bad lighting can cause accidents and injuries. Because we don't see kitchen islands ever becoming a dated trend, having the right focal lighting piece hanging above it is a timeless kitchen trend. The specific lighting style is up to you -- a single chandelier, a series of pendant lights, or a wide linear fixture will all pair perfectly with your kitchen island.
For the rest of the kitchen, focus on task lighting. Usually, this means recessed lights but can also include under cabinet lights. Be sure to work with your designer to have your main fixture and task lighting controlled by different dimmer switches to adjust your lights to suit the time of day.
8. Just Enough Contrast
Over the past few years, all-white and all-gray kitchens have been edged out by introducing color. Two-toned cabinets, patterned tile backsplashes, and even pops of color via the appliances have been fun alternatives to a monochromatic palette, but these will inevitably feel dated in a few more years.
To make sure your kitchen design won't leave you wanting to start again in five years, choose finishes and colors that offer a neutral-enough palette with small doses of contrast. Your kitchen island is a great place to apply color because it's easy to paint if and when you want to change things up. The island countertop is another great area to play with. Use a butcher block that contrasts with your white quartz parameter counters for a timeless-but-interesting alternative. Tile, flooring, and all-over cabinet colors, however, are more labor and cost inductive, so it's best to stick with more earth-toned or neutral colors for these finishes.
Where in Your Kitchen to Design With the Latest Trends in Mind?Timeless Luxury Kitchen Remodeling in Salem, Oregon
It's difficult to forego trends altogether when we're inundated with what's new and trending all the time. It's also just plain fun. Don't be afraid to incorporate some restrained use of popular trends in ways that don't feel like too big of a commitment.
Your kitchen hardware and plumbing fixtures are easy enough to change when you've grown tired of the design, but they still pack quite a bit of style. Using matte black or brushed gold in the kitchen is still trending and can change the feel of the entire space, but is minimal when it comes to updates down the road.
Your main lighting fixture also delivers a lot of style influence on the kitchen and is easy enough to update when you've grown tired of it. And, because you were careful to design the rest of your kitchen for timelessness, the style of your light fixture can vary across many styles and still look fantastic.
Aside from trends that require installation, you can still play with color in decor. Your rugs, countertop accessories, and dinnerware behind glass front cabinets can change with the seasons without having to schedule an appointment with a contractor or electrician.
Timeless Luxury Kitchen Remodeling in Salem, Oregon
Many designers are eager to plan kitchen remodels with trending designs, but not every homeowner shares that excitement. You want your kitchen to feel as new in a few years as it does when the remodel is complete. That's why Kraft Custom Construction prioritizes every homeowner's unique design goals in every kitchen remodel. We know that after the work is done, it's important that you love your new space–not just now, but for years to come. Kraft Custom Construction not only focuses on the outcome, but also your experience, with transparent communication, excellent collaboration, and by keeping your design goals at the center of every part of the process. Contact us to schedule a consultation to start planning your kitchen remodel.