7 Mistakes to Avoid While Remodeling Your Kitchen in Salem, Oregon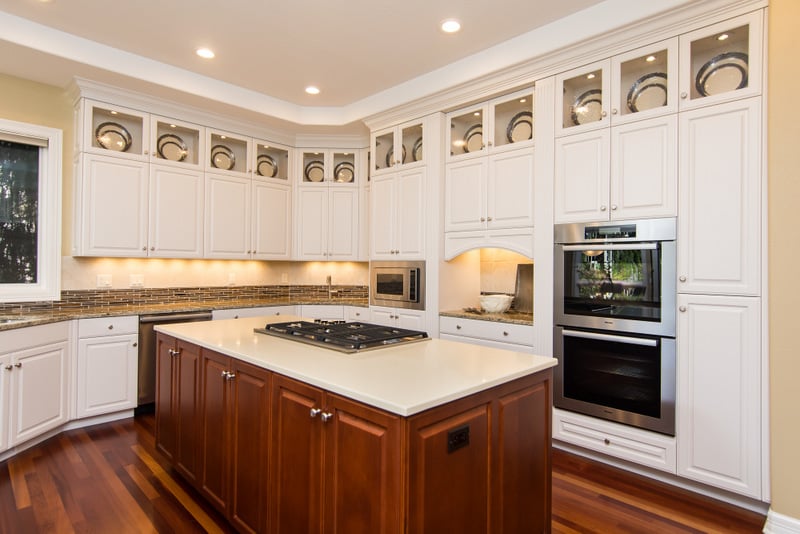 Planning a kitchen
remodel
requires a lot of decision-making. Will you need to expand your space? What type of layouts should you consider? How much storage will you need? What design style should you choose? To help you start planning your remodel, we've listed the top seven kitchen remodel mistakes you should avoid to
ensure it'll be a success
.
1. Planning in a Rush
Delays, unexpected costs, and disappointment usually come about when a homeowner rushes the planning stage. Where should you begin your plan? With the end result in mind. This is called backwards planning. Think about the end goal for your kitchen remodel and work backwards from there. This also helps to keep your design cohesive.
How much space will you need? How many family members need to use the kitchen at once? What kind of features are a must-have? What kind of design style suits your personal style and the design of the rest of your home? And, most importantly, will your remodeling budget be enough to accomplish your end goal?
2. Wasting Space and Overwhelming Your Space
Homeowners tend to do one of two things: pile function into one area of the kitchen or spread everything out too much. The former will create bottlenecks, while the latter will create frustration by having to take extra steps to prep every meal.
The key is grouping like-with-like, and also employing the kitchen triangle. The three primary elements in your kitchen – the refrigerator, stove, and sink – should all be within a few feet from one another. Positioning your refrigerator clear on the other side of your kitchen will create a lot of frustration over time. An additional tip to the rule is to not set your dishwasher within the triangle because it'll get in the way of the flow. This also goes for any doors and your pantry.
To avoid wasting space while overwhelming another area is to group other like-items to create stations. Situate your coffee bar outside of the triangle to fully utilize your kitchen's square footage. If you enjoy baking, create a hub for all of your appliances and tools elsewhere as well.
3. Choosing Budget Materials
Choosing durable and high-quality materials is essential in the kitchen, where budget or delicate materials will wear quickly. Keep in mind that high-end materials aren't always durable. Marble, for example, will stain, etch, and chip after heavy use. If you're dedicated to keeping it clean and refinishing the surface every couple of years, your effort will be worth the benefit of the high-end style it provides.
The same principle applies with some hardwood floors. They are gorgeous and will last 100 years or more if they're properly maintained, but will need to be refinished every 7-10 years. Choose hickory, or another Janka Hardness Rating of 1500+, for a durable and long-lasting kitchen floor. A zero-maintenance, durable, and stylish flooring alternative to natural wood is luxury vinal plank (LVP) or a wood-look porcelain tile flooring.
Here are a few more ultra durable materials that designers suggest to busy families:
Quartz countertops

Maple, hickory, oak, walnut, or cherry solid wood cabinets

Ceramic tile flooring

Bamboo flooring
4. Overlooking Your Lighting
Lighting in the kitchen should come from multiple sources and spread out throughout the space. Some areas will need more lighting than others. A mixture of recessed can lights, pendant lights, and task lighting will ensure each zone is appropriately lit and reduce mistakes or accidents. Where should you use each type of lighting?
Recessed lighting: Throughout the kitchen and particularly over the sink

Pendant lights and chandeliers: These offer ambient light, usually over the island

Task Lighting: Under cabinet lighting is a perfect example
5. Not Adding Enough Storage
How much storage a family needs is too often underestimated. This is especially true for families that love to cook and own a variety of cookware and small appliances. To avoid running out of space in your newly remodeled kitchen, start by taking inventory of what you have and assume you'll collect a few more gadgets in the future.
Next, work with your designer to create custom storage solutions for unique items, like your stand-up mixer. By planning around these larger items first, you'll know how much more space will be left over and how much more storage you should make room for elsewhere.
It may be that you'll want to include a walk-in pantry or butler's pantry in your kitchen remodel for added storage and convenience. A built-in bench with hidden storage in your breakfast nook is another clever storage trick to house linens, serving ware, and other items.
6. Not Adding Enough Electrical Outlets
Outlets are like storage: you'll need more than you assume. Think about how many small appliances you have now and how many you'll accumulate in the future. There are also other items that will find their way into the kitchen, like phone or tablet chargers. Add outlets to the inside of drawers, inside cabinets, on your island, and inside your pantry. Once you've moved back into your finished kitchen, how you use your kitchen will likely evolve. You won't want to be held to where your countertop appliances are for years down the line.
7. Too Many Trends
Let's be honest: trends are fun and give spaces a breath of fresh air. However, they can also make their way onto an "outdated trends" list within a couple of years. If you're really excited about using a certain trend in your kitchen remodel, consider one that has already had staying power and is projected to continue in its popularity, like slab backsplashes.
Work with a professional designer to get recommendations on which trends will have a longer shelf life than others. Another way to add trends without investing in a remodel sooner than you'd like, is to lean into trends that are easily changeable while using timeless design everywhere else in the space.
Here are a few examples of where to use trends that could require minimal work or investment to update:
Island cabinetry color

Hardware

Plumbing fixtures

Window treatments

Wall color

Bar stools

Pendant lights and chandeliers
Work with the Best Design-Build Firm in Salem, Oregon
When you hire a great design-build team for your kitchen remodel, the rest will come easy. By working with a design-build team, you get every service under one roof. You'll work with both your designer and builder to ensure the solution solves every challenge in your current kitchen with a design that's feasible, offers convenience, and is the pinnacle of style.
Kraft Custom Construction has served the Salem, Oregon, area for decades perfecting our craft to deliver a design and finished project that's as gorgeous as it is functional. Your design goals are kept at the center of the entire design-build process, from start to finish. Contact us today to schedule a consultation and find out what Kraft Custom Construction can do for your kitchen remodel.