What Does a Bathroom Remodel Cost in Salem, Oregon? [2023]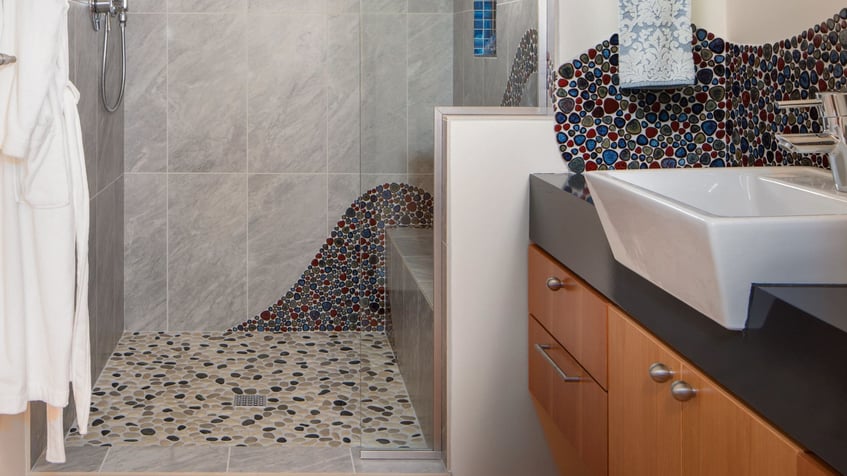 Figuring out how much you'd like to invest is one of the first matters of business in remodeling your Salem bathroom. It's not always a fun step, but it's a necessary one. Without a proper understanding of what to expect price-wise, it's impossible to plan your budget and bathroom remodel timeline. Learning about typical bathroom remodeling costs can help you decide when to splurge for those extra luxuries, and on what items you might want to cut back on.
As a Salem remodeler and custom home builder, Kraft Custom Construction deals with pricing every day. And we're sharing what we know with you! Keep reading for cost ranges and descriptions of our most common bathroom projects, including standard remodels and more upscale solutions. Whether you want to make the most of a small bathroom or add a new one altogether, this blog gives you the information you need to get started.
How Much Does a Bathroom Remodel cost?
Salem contractors who provide a similar service and quality to Kraft Custom Construction, can complete your bathroom remodel for anywhere from $60,000 to $150,000. The final cost of your project emerges as you work with your remodeler to determine your remodeling budget and goals. Ultimately, the final project cost comes down to what you want out of your bathroom remodel. Let's dive into these prices and see what you get for your money!
Full Bathroom Remodel: $60,000 +
The standard bathroom remodel at Kraft Custom Construction is full scale and service. It's way more than your basic minor repairs like replacing countertops or tiling a shower (although we include those as well). At the starting price of $60,000, you get a semi-custom vanity with a granite or quartz countertop, updated electrical fixtures, midrange plumbing fixtures, and a new custom shower with a semi-frameless door and porcelain tiling. To complete the look, it also includes new flooring, a fresh coat of paint, updated millwork, and all new bath accessories. Basically everything from floor to ceiling in your outdated bathroom is updated. Notably, this type of bathroom remodel makes use of the existing space. If expanding or changing the layout of your bathroom is a primary concern, an upscale remodel is your best option.
Upscale Bathroom Remodel: $100,000 +
With an upscale remodel, get the most customization possible in your bathroom. You can move your shower, tub, vanity, etc., wherever you want to improve flow and function. At $100,000 or more, you get an expanded frameless natural stone shower, freestanding tub to soak in, high-end plumbing fixtures, and a fully custom vanity. A luxury bathroom can also include:
Heated flooring

Compartmentalized commode (water closet)

Special shower features

The most beautiful — and durable — materials available

Anything else you can dream up!
Though bathrooms are primarily function-focused rooms, an upscale remodel allows your bathroom to be so much more than that. There are plentiful opportunities to add custom storage or other spa-like features to create a place just as conducive to relaxing and recharging as it is for getting ready each morning.
Is a Bathroom Remodel Worth It?
To determine whether a bathroom remodel is worth your money, time, and energy, consider why you want to remodel in the first place. Is your bathroom old and falling apart? Do you need more space for a growing family? Is the layout poorly organized and frustrating to move around in? All of these are excellent reasons to remodel or add on a bathroom — and doing so will be well worth the expense. Here's why:
Bathrooms are one of the most critical rooms in a home. They're used often for bathing, getting ready, and other routine activities. For this reason, they tend to take more abuse than other areas in your home. Constant use in a water-and-steam-filled environment leads to deteriorated fixtures, peeling wallpaper, water spots, stained countertops, and more. Fixing these issues by remodeling before they get too out-of-hand is crucial. If left unattended for too long, they can lead to further issues such as mold and dry rot, which are not only unappealing to look at but also hazardous to your health!
But remodeling your bathroom isn't just about fixing a problem, its about creating a space you truly enjoy. You deserve a sublime bathroom experience. Chances are, your current bathroom isn't living up to your standards. You find yourself gazing at eyesores when you should be relaxing in the bathtub; dingy tiles create a palpable feeling of discomfort as you ponder what unwelcome guest might be growing between the cracks. You might have too little space, which makes getting ready in the morning a hassle — especially if you're jostling for dominance over the sink with a partner. Or, it's just plain embarrassing for when friends or family come to visit. You need a space that you're proud of, and that accurately reflects your needs and style!
Bathroom remodeling can solve these problems while providing you with a stunning, update-to-date space you love. The investment is well worth it for you and your family to have a bathroom you can fully relax in.
Your Bathroom Transformation
Your bathroom remodel or expansion starts with finding a remodeling contractor in Salem, OR. They are the key to bringing your bathroom ideas to life and will help you nail down a more specific, actionable project cost estimate. Share your vision and needs with a remodeler like Kraft Custom Construction and begin your bathroom transformation today.