5 Outdated Bathroom Trends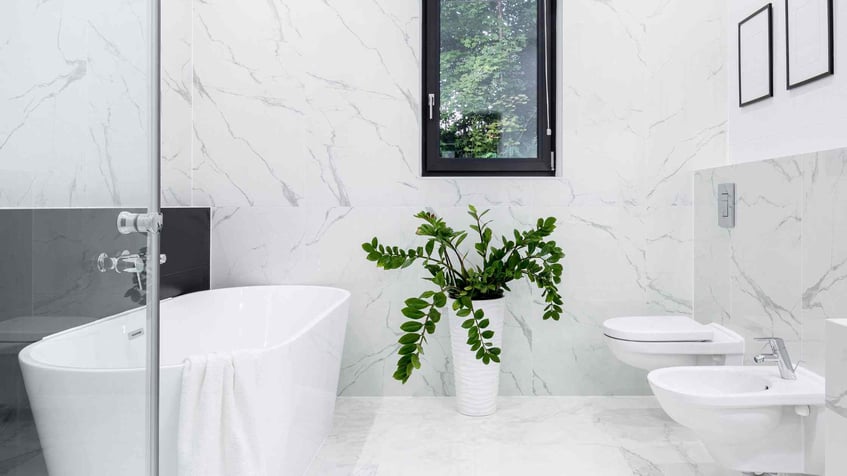 When upgrading an outdated bathroom or moving into a new one, the last thing you want to do is utilize trends that will go out of style in a year or two.
Imagine how frustrating it would be to revamp your bathroom only to see an article decrying the design flourishes you so confidently included, just a few months later. You'll start to look at your bathroom differently, and the space you were once so proud of becomes a source of shame or regret.
Not at Kraft Custom Construction! Our designers believe in helping our clients get the most value out of their investments by outfitting them with a look they'll love for a lifetime. In that spirit, we're highlighting the bathroom trends you should avoid for a lasting look – and suggesting a few new ones that might stick around for a while.
Outdated Bathroom Trends to Avoid
Most of our clients want to update their home to better reflect their tastes and lifestyle. You want to feel comfortable and energized in the place you call home! Yet as an informed consumer, you also deserve to know about some of the bathroom trends that have been left in the past for the reasons we describe below
1. All-white Monochrome
Are white bathrooms going out of style?
You have sharp instincts if you've found yourself asking this question as you flip through color-soaked magazine pages and interior design websites. Though once the predominant trend for bathrooms (and kitchens), the all-white everything trend is a look we'd rather skip.
When you have floor-to-ceiling white, your bathroom feels cold and clinical — more like a sterile hospital than the spa-like oasis you're longing for. The advantage of white is it's a neutral color that's universally appealing and doesn't clash. Luckily, you can still attain all the benefits of neutrals while infusing color and warmth into your bathroom using an off-white alternative.
We recommend choosing warm neutrals such as cream, ivory, tan, or greige. These colors create a calming palette while also providing more personality and comfort in your bathroom than a bright white.
2. Open Storage
Open shelving and storage have been a hot look for a while now. But who has time to keep visible storage perfectly organized — much less dusted!? Plus, clutter is a cardinal sin if you're trying to create a relaxing bathroom. Unless everything is just-so, you might find yourself with the urge to clean rather than soak in a steamy bath.
Instead, opt for plentiful sleek storage, like in this West Salem bathroom remodel.
3. Granite
Granite was a go-to in the 2000s. However, many are rethinking this rock choice because of its distinctive, busy pattern, which isn't conducive to a tranquil, spa-like look. Natural stone is still an excellent choice for your bathroom; incorporate it with elegant marble, striking slate, breathtaking onyx, or understated travertine.
4. Oversized Tubs
Don't get us wrong; we love a good soaking tub. But you only have so much real estate in a bathroom. Do you really want to spend most of it on an oversized tub you'll only use a maximum of a few times a month? You can still get the same relaxing soak in a normal-sized bathtub. Additionally, oversized tubs take a lot of water to fill up. As homeowners become more environmentally conscious, it's no surprise this trend is getting kicked to the curb.
5. Extravagant Lighting
We used to think a sophisticated bathroom needed big, statement chandeliers or pendant lights. It turns out those extravagant lighting pieces are challenging to clean, havens for dust, and changing out the lightbulbs can be a nightmare. Now, designers are turning to refined lighting. Simple LED lighting overhead and wall-mounted sconces flanking the mirror provide all the light you need without contributing an ounce of visual clutter to the space.
What is Trending in Bathrooms for 2022 and 2023?
We've gone over what not to do. Now, let's turn to the current trends likely to last.
1. Wet Rooms
If you want a home spa, a wet room is for you. These enlarged areas contain enough space for both your shower and bathtub. Completely waterproof, a wet room makes transitioning from a bath to the shower easy — no more leaving a trail of water on the floor that you'll have to clean up later! Wet rooms can be completely open or enclosed
by glass walls, making your bathroom feel more spacious and showing off the beautiful tilework within.
2. Natural Materials & Influences
Biophilia is one of the biggest buzzwords in 2022; it refers to interior design that feels connected to nature, and it's nothing new for those of us located here in the Pacific Northwest. Natural materials like stone and wood are design classics. They, along with nature-inspired colors and art, are one of the hottest trends today with serious staying power. Evoke biophilia in your bathroom with natural stone; colors like green, brown, and terracotta; and by using live plants in your decor. Try the leafy philodendron or pothos. Or, for something hard-to-kill, get a snake plant, ZZ plant, or Chinese evergreen. We also recommend using a plaster finish on your walls to create a subtle, natural texture, with the added bonus that plaster is more durable than drywall in high-moisture areas!
Design a Bathroom Remodel in Salem OR that Never Goes Out of Style
The best way to achieve a bathroom that never goes out of style is to identify your tastes and create a space that accommodates them, along with timeless design. It might seem like a daunting task on your own. But when you work with Kraft Custom Construction, personalized design that you'll love for a lifetime isn't just an aspiration; it's a guarantee.