Why Now Is the Best Time to Remodel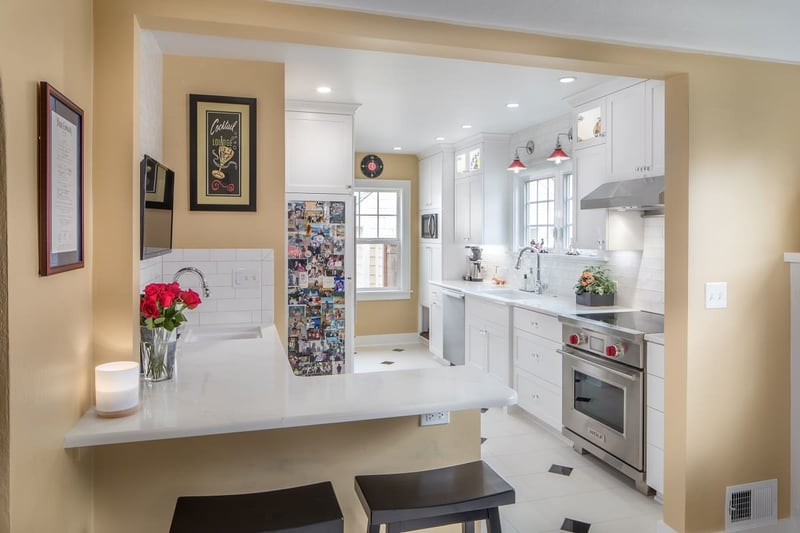 You've put off remodeling your home for years, waiting for the perfect timing. How will you know when the right time is to remodel your home? Choosing the best time to remodel your Salem home depends on your house itself, the season, and the market. We'll explain how each of these affect your remodel timing and why now is the best time to start.
When Is the Best Time to Remodel Your Home?
You probably have several reasons why you've waited this long to plan your remodel. It's common to point to upcoming travel plans, a child moving out or another one on the way, or worrying how long it will take to complete. However, here are the top reasons why right now really is the perfect time to begin your remodel.
Rising Costs
The cost for a remodel will continue to trend upward, year after year, and it's common for homeowners to be concerned about inflation and interest rates. If putting off your remodel is due to being wary of inflation, the answer to resolving your worry is to invest in your home sooner rather than later. Locking in the current cost and rates now will ensure your remodel doesn't cost more later, when it could hinder your project altogether.
The Weather is Right
Some seasons are better than others for completing a remodeling project. By starting the planning and design process now, construction can begin in the late spring or early summer. This is the best timing for construction, when the days are longer and the weather is fair. Though it is possible and we do it regularly, remodeling in the winter may create fluctuating temperatures in your home, which can be uncomfortable in the Northwest. By beginning the process now, you'll have a brand new space ready to enjoy in the cooler months.
Avoid Construction During the Holidays
Waiting a few months could mean that your home will still be under construction during the holidays. However, by starting the process now, your home will be ready for putting up decorations and hosting guests. If an addition is part of your design goal, you'll even be able to invite a few friends or family members to stay during the holidays and enjoy extra quality time, rather than leaving at the end of the night to sleep at a nearby hotel.
Your Home's Problems Could Get Worse
When your home is feeling cramped, there's disrepair, or if you've had unfinished projects around the home for years, these issues aren't going to go away over time – and they're likely to get worse. What are the top reasons homeowners invest in a remodel for their home?
Embarrassment
Entertaining at home can be fun, create memories, and make you feel more connected to the people you love. However, when your home is dated, falling apart, or the layout of your living space feels awkward, entertaining can feel more embarrassing (or frustrating!) than fulfilling.
With a remodel, you can open your floor plan and create gathering spaces that feel natural rather than forced. Extend your living room to an outdoor living area that offers additional space for cooking, dining al fresco, and enjoying a cool evening sipping wine under the stars. Improve your home's aesthetic with updated finishes that are both timeless and trending to feel proud of your home while hosting a dinner party for friends.
Privacy
Over the last several years, your kids have grown older and sharing rooms just won't do any longer. Or perhaps there are too few bathrooms, causing stress in the mornings. Maybe you've begun working from home and it's a quiet home office you need.
When space and privacy are limited, it can affect how you feel about your home and result in more conflicts. The solution will only come with a remodel. Add square footage to your home or work with a designer to make better use of the space you already have. Your unused dining room can be transformed into an additional bedroom and bathroom. Your musty basement can be finished and turned into a quiet and stylish home office suite. You may even want to add another story to your home, possibly doubling your square footage.
A Closed-Off Floor Plan
Older homes were designed to be compartmentalized. The kitchen, living room, and dining room were all separate spaces and can keep everyone feeling isolated in smaller – and often darker – rooms. Creating an open-concept floor plan will introduce more natural light and a feeling of connection to your family's home.
Cramped and Cluttered
Not having enough storage means you've had to be very creative to come up with solutions. Boxes under the beds, buying bulky storage furniture that doesn't compliment your home's style, and overflowing closets are common in homes with inadequate storage. A talented designer will have the experience to cleverly add storage to every room in your home without sacrificing style and a great layout.
Abandoned DIY Projects
Every homeowner gets the urge to fix problems on their own. Too often, however, these projects get abandoned because of both expected and unexpected circumstances. Months, or even years, go by and the unfinished project just sits there, creating an eyesore and frustration. You may have even hired a mutual friend with hopes that they would complete your project but it just made matters worse. In either of these cases, put your home in the hands of a vetted professional to complete the projects that got left behind and enjoy the time you've been dreaming in these successfully updated spaces.
Put Your Home in the Right Hands
It's true that a remodel will take time and investment, but with the right remodeler, you can feel confident that planning your remodel sooner rather than later will bring a huge sigh of relief when it's completed.
Kraft Custom Construction is a trusted design-build firm that treats every home like it's our own. In fact, our firm structure is based on a boutique design to ensure your home is our top priority during the process. Our designs and work are always successful because we're driven by your personal design goals, creating a brand-new space that feels absolutely perfect. Contact Kraft Custom Construction to schedule a consultation and let's work together to finally complete the home remodel you need.