How to Pick the Best Tile for Your Bathroom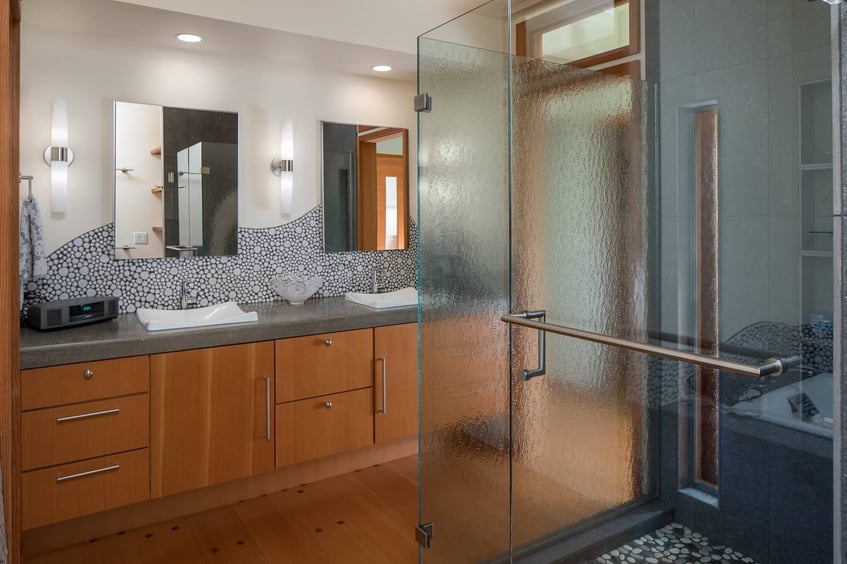 Bathroom tile options seem endless when you're trying to choose the perfect material for your bathroom remodel. Researching online or scanning through magazines can feel overwhelming if you don't have a plan for narrowing down your options. Luckily, there are only a few specific decisions that go into choosing the right tile, and we can help you, step-by-step, in whittling down your choices to confidently land on the perfect one.
Where is tile used in a bathroom?
The most common places to use tile in a bathroom are the shower walls and floor. Depending on the layout of your bathroom design, you might also want to use tile on the walls in areas susceptible to water damage, such as behind the vanity, around a freestanding tub, or behind the toilet. Many homeowners also opt for a tile wainscot throughout the bathroom, which is wall tile installed from the floor up to around 42" tall. This gives the functionality and aesthetic of wall tile, without overwhelming the space and also saves on some of the costs.
How do I choose bathroom tiles?
Going into your design meeting with a plan, even a general one, will help to expedite the process, and help direct your focus when options start to pile up in front of you. You'll need to do some online research to learn about what options are out there, but once you begin finding colors, shapes, and materials you like, you'll be able to get more specific about your decisions.
Determine Your Budget
This is step one for any remodeling or custom homebuilding process. Before you get carried away thinking about your dream design, knowing how much a bathroom remodeling project will cost can help to set design parameters from the start.
Think About the Context
Your bathroom doesn't exist in a vacuum. It leads into other rooms or a hallway which have their own color schemes at play. This isn't to say your bathroom can't stand out with a wow factor, but if cohesiveness in your home is a goal, think about what colors and materials are used in the adjacent spaces.
If matching or coordinating isn't the goal, then you'll have a lot more design freedom to play with in planning your bathroom. Use a pop of color not found in other parts of the home or play with a bold pattern. Bold color or patterns are great for smaller spaces like bathrooms.
Choose a Color Scheme
There are a lot of materials and features that go into a bathroom remodel, so your tile will need to coordinate with the other finishes you choose for your space. Getting to know the color scheme you'd like to see in your bathroom will go a long way in narrowing down the tile you choose. This is another aspect you can look into online. Search for bathroom color schemes and many pleasing color palettes will reveal themselves. Some will be a quick 'no' while others you'll set aside to compare later with your designer.
After you narrow down your color palette, you can then decide which material will check off each color in the scheme. Many designers suggest starting with the colors of the larger pieces in the room first, and then filling in with the smaller colors after that.
Think About Material
Some materials are more durable than others, which is important in the bathroom. There are a few materials that are the go-to choices for floors and walls.
Ceramic & Porcelain
Ceramic and porcelain are both made from clay but fired at different temperatures, making porcelain more durable than ceramic, but not drastically. Porcelain is also less absorbent, which is a big consideration for your bathroom design. Both materials are available in almost every color, in lots of patterns and sizes, and even in wood grain.
NATURAL STONE
Natural stone tile is a common go-to in the bathroom, especially marble and granite. Alternative stone, like quartz, is also popular. Other stones to consider are slate, limestone, travertine, and sandstone. Natural stone is porous and does stain over time, however, so you'll need to maintain them by resealing them periodically. This might be a compromise you choose to make to get the luxury look of natural stone in your bathroom design.
GLASS TILE
Glass tiles can be very stylish in a bathroom and work to carry light through the space, which is great for a room that usually doesn't get much natural light and where good lighting is important. Glass tiles also come in every color and shape you can imagine, so it offers a lot of variability in design. They can be found in mosaic patterns or single field tiles. Glass is slippery, however, so if you're interested in using larger field tiles, this is recommended for the shower walls versus floor.
Trending or Timeless?
Tile trends come and go like any other finish. Trendy tile can be fun to use in small doses but be wary of growing tired of them or making your bathroom feel dated sooner than later. With this in mind, using trends is safer with paint colors because it's easier and less expensive to change. Some tile trends stick around for several years, and many are considered timeless. Marble tile, subway tile, and penny tile have been popular for ages, and this isn't predicted to change anytime soon.
Consider Tile Size
Thinking about the size of the tile you'd like to use is especially important if you would like to use more than one style. Balancing your tile sizes, like using penny tile on the floor and larger marble tile on the shower walls, is good design sense. For all-over tiles, stick to a medium to large tile. Small tile used on the floor and shower walls will have a noisy, or almost cluttered, appearance.
Tile Pattern
How your tile will be laid is another consideration. Herringbone, chevron, basketweave, and running bond are common with rectangular tiles. If you're interested in hexagonal, circular, fish scale, or other interesting shapes, these will of course be set in a pattern that makes most sense for the shape.
Next step in bathroom design: finding the right team for the job in Salem, Oregon
The bathroom is one of the smallest rooms in the home but also requires a lot of design decisions. You'll want to make sure the team you choose to work with is up for the job, can help guide you through the process stress-free, and have the skill to deliver a beautiful and functional outcome.
Kraft Custom Construction is a dedicated team of craftspeople that have one goal in mind: to create a tailored remodeling experience for each unique client and deliver the perfect space. We've been operating under this goal for over 40 years, and it's proven successful time and time again. Located in Salem, Oregon, and serving both the Salem and Portland metro regions, we've had the pleasure of working with countless clients over the years. If you'd like to learn more about our process, our experience, and how to get started finding the right design for your project, contact us to schedule a consultation.