The Top Kitchen Designs of 2023
Most kitchens are the center of homes. It is a key place to connect with others, share a meal, and entertain. It's a room where relationships with friends and family can grow. A kitchen should be inviting and practical. This article will discuss kitchen trends in 2023 and kitchen style.
2023 Kitchen Trends
Whether remodeling or starting from scratch, a kitchen should be designed to get the look you want and fit your lifestyle. There are many kitchen design trends in 2023.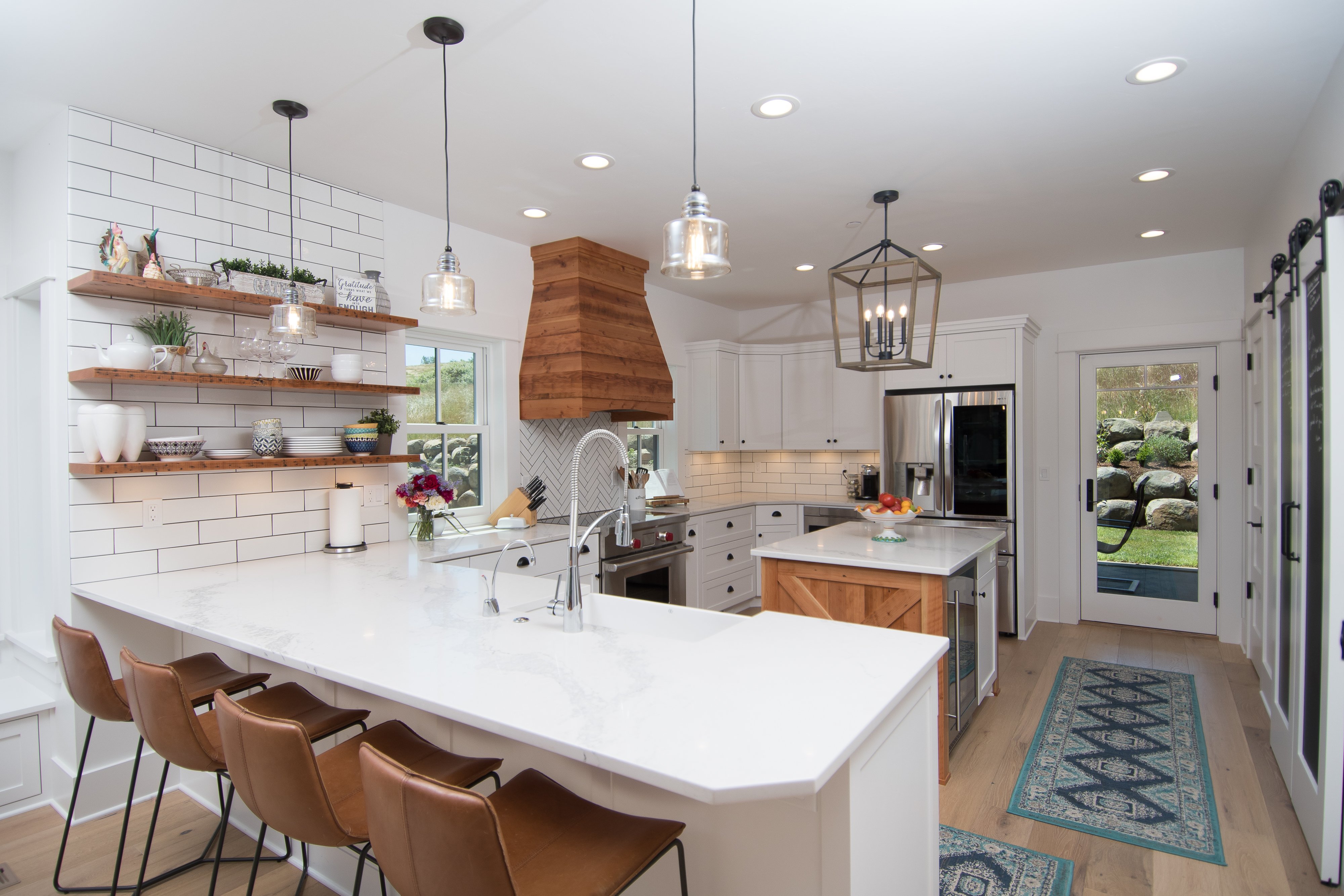 Extending the kitchen's reach
An open kitchen design has been a popular design option over the past few years. Generally, a kitchen's design encompasses spaces like the pantry, mud room, dining room, and half baths. These spaces all flow openly with one another with different functions. Continuous visibility is influencing how homeowners want a kitchen to look. This opens up the space in look and functionality.
Expensive windows
Windows will be the focal point of kitchens in 2023. Throughout the year, there will be more kitchens with huge window walls that slide open or pocket walls. This would merge an indoor-outdoor space. Expansive windows will open up the space, and add natural daylight and fresh air. Windows create a stunning, refreshing kitchen space.
Doubling up for efficiency
Because there is more time spent in the kitchen, doubling up on appliances and fixtures is valued by homeowners. More families eating at home means there are more people in the kitchen simultaneously, adding a second single-bowl sink is in high demand. Also, adding a secondary oven and dishwasher are popular duplicates.
Subdued countertops
Rich woods and dramatic colors are more popular than bold stone patterns and dark granite countertops. In 2023, countertops will lighten up a kitchen space. The wood, earthly, muted tones will create a warmer space. This satisfies homeowners' desire to have a more organic vibe in their kitchen. Wood cabinets are also making a comeback and these countertops will complement one another. Also, lighter surfaces are likely to be made of quartz or quartzite, which are non-porous, stain-resistant, and easy to maintain.
Touches of traditional style
Kitchen designs are moving away from the simplicity of flat panels and ultra-sleek lines. Styles are changing back to a more traditional, old-fashioned look. Classic beaded inset cabinet doors, custom cabinets, and accent colors are becoming more popular in 2023. People are finding new ways to honor old designs in a home. The kitchen and other spaces are becoming a backdrop for vintage buffet cabinets, wall decor, and dinnerware in contemporary homes.
Concealed storage and appliances
Storage and organization are key to having a successful kitchen. Keeping an organized kitchen while concealing clutter is essential. People like having their most used kitchen items organized. Homeowners are seeking solutions for countertop appliances, including under-counter stand mixer lifts and spaces for coffee machines and toasters that can be concealed with cabinet doors when not in use. Walk-in pantries are another great way to store items and appliances out of sight.
Range alternatives
Homeowners are also looking for alternatives to the range and vent hood traditionally situated along a wall. Cooktops paired with downdraft installation in an island, for example, allow the cook to more easily converse with others in the kitchen or adjacent rooms. This provides a perfect place for entertaining or helping kids with homework before dinner. This setup can also be a good design for the cook to enjoy outdoor views from kitchen windows. Swapping an over-the-range vent hood for downdraft ventilation further opens up the space.
Kitchen Styles
Kitchens are no longer dreary workspaces, hidden behind closed doors. Kitchens now double as offices, media centers, and family rooms. Manufacturers now offer cabinets, countertops, and fixtures in the most popular design styles. These styles include old world, modern, city chic, and country styles. Your kitchen should reflect your personal style.
Farmhouse kitchens
Country kitchens are open and inviting. Farmhouse tables and furniture-like cabinets are popular with some eclectic looks and finishes, helping create a comfortable lived-in look. A mix of colors rather than matching, is an excellent way to create a country-style kitchen.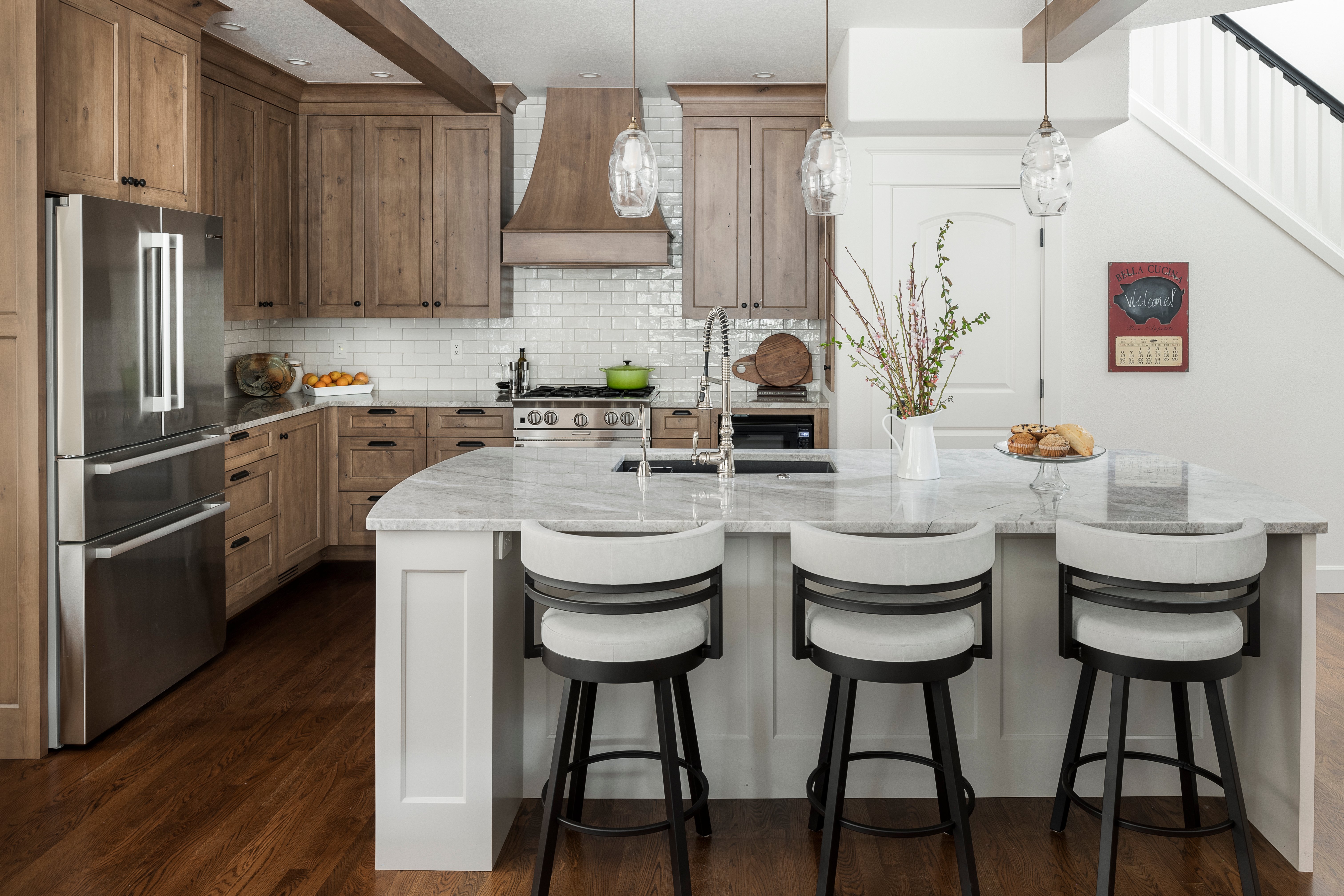 Modern kitchens
A modern kitchen design is a way to create a sleek and sophisticated kitchen with minimal clutter. Reflective surfaces and high-tech materials are central to the most modern kitchen, and exotic woods add a touch of luxury without frills or fabric.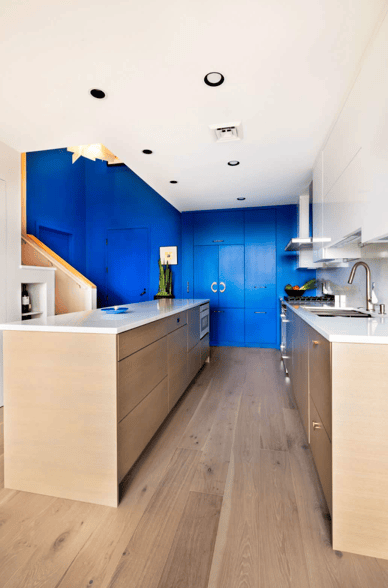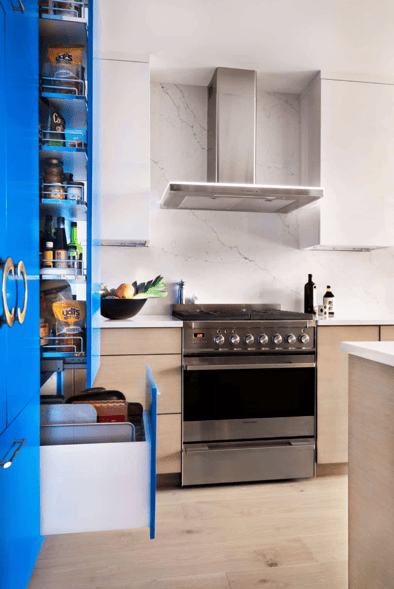 Cottage kitchens
Cottage kitchens are designed to feel cozy regardless of room size. Cottage kitchen designs are one-of-a-kind. They are a perfect backdrop for offbeat collectibles. A cottage kitchen gives you a chance to display flea market finds that add to your everyday pleasures. You can add high-end appliances in white or retro colors that will help create a cottage kitchen atmosphere.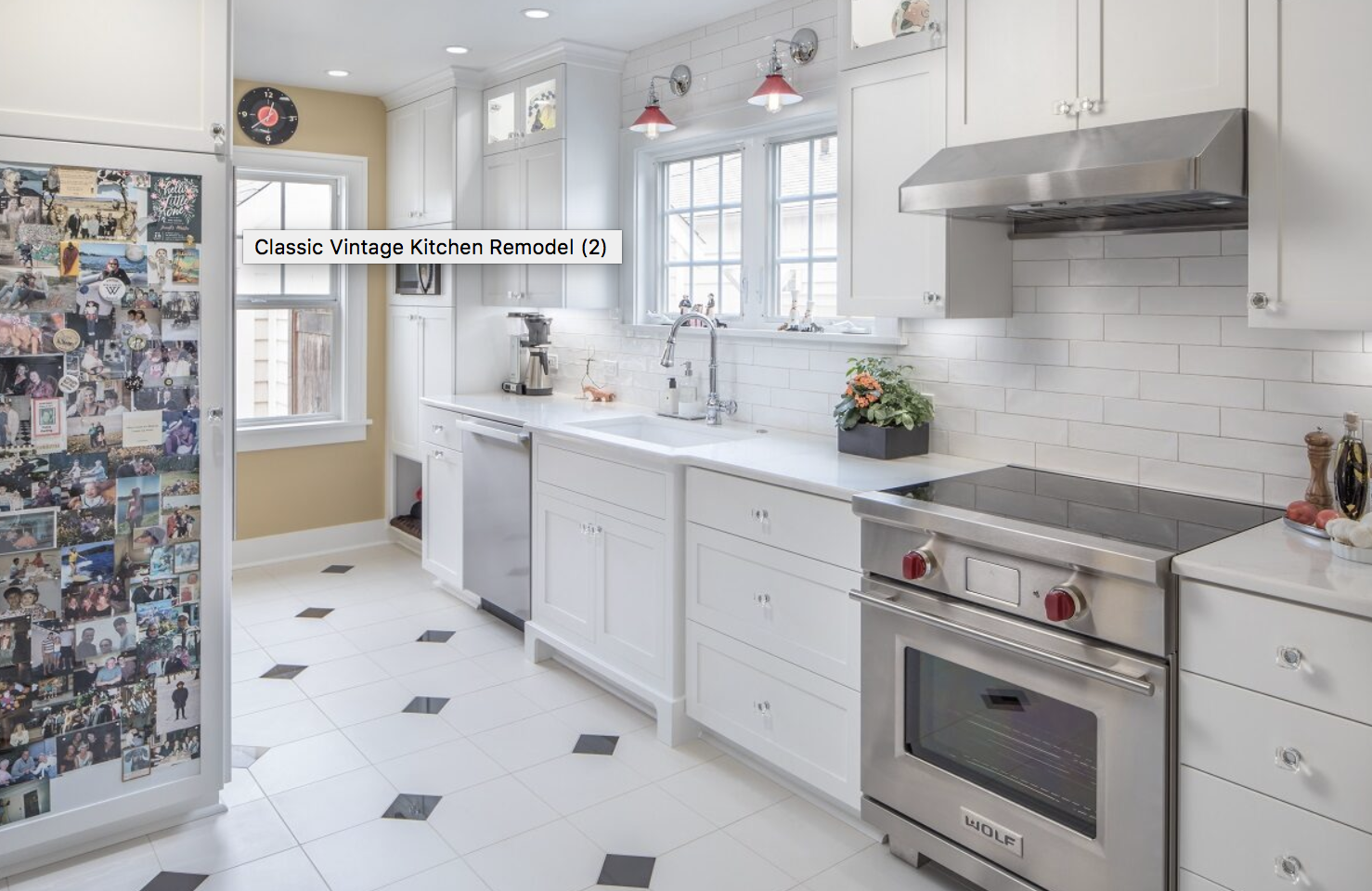 Contemporary kitchens
A contemporary kitchen design creates a functional, family-friendly space. This look uses a mix of new and old, casual and polished. Add gourmet cooking equipment, comfortable, durable seating, and lots of open space for a kitchen ideally suited to 21st-century living.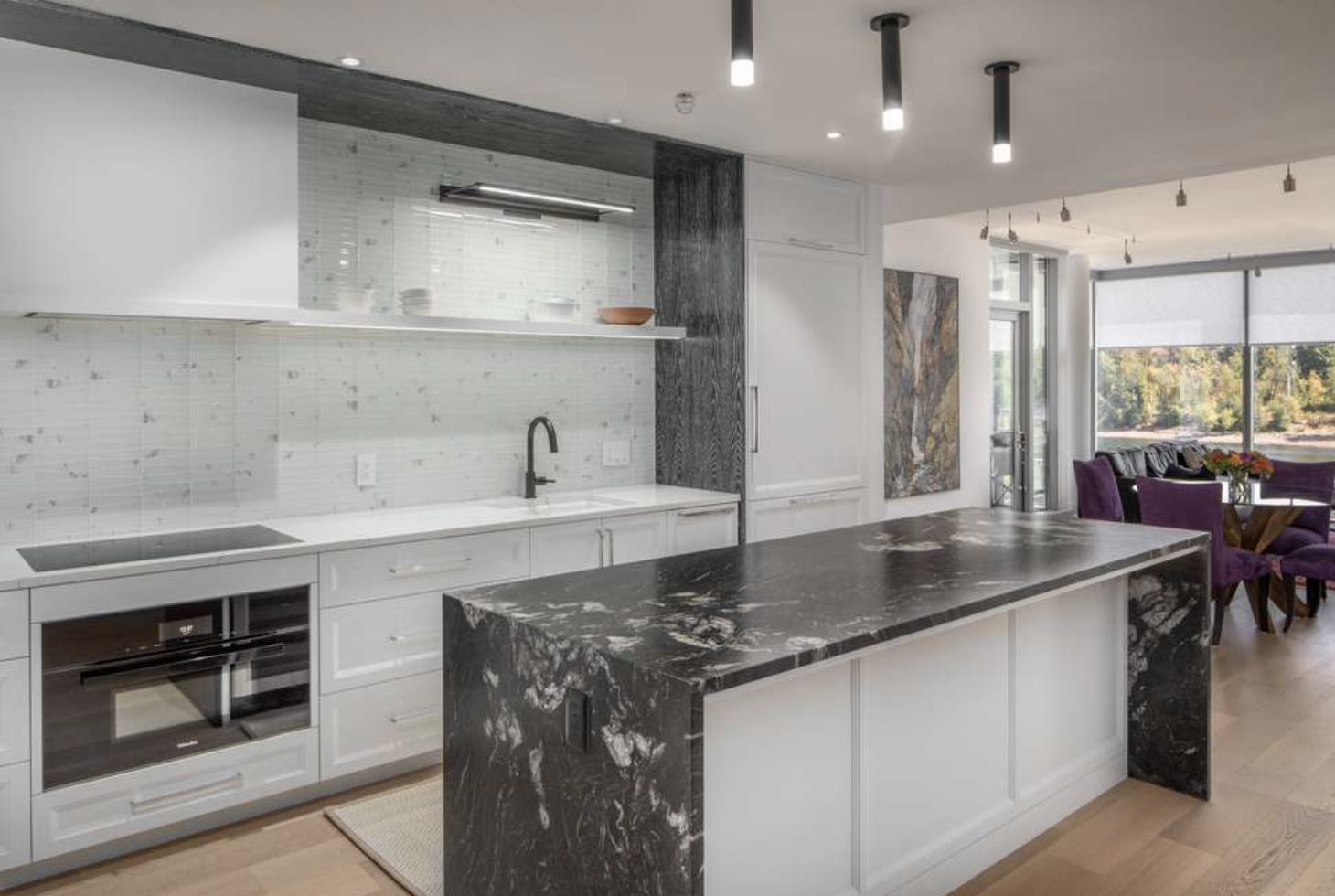 Coastal kitchens
A coastal kitchen design is not just for those who live on the beach. Coastal kitchens can create a beach-like atmosphere anywhere. Using cool blue, green, white, and sand shades can also create a vacation-time mood. Seagrass and wicker seating are casual, comfortable, and coastal. Fabrics and flooring designed to stand up to wet bathing suits make coastal-style kitchens easy to care for.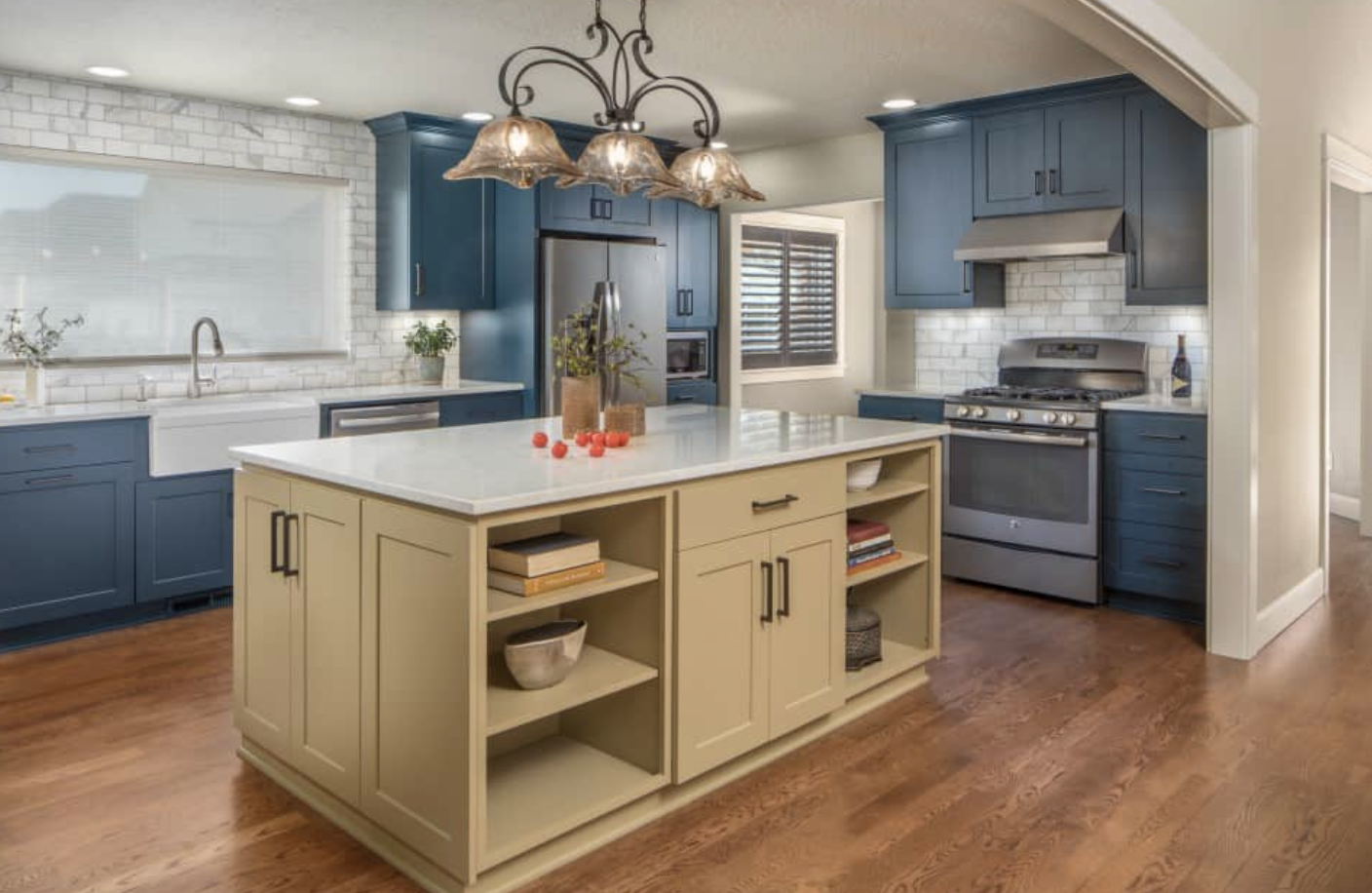 Finally, designing a kitchen is full of possibilities. There are all sorts of ideas online to help you get started. The end result should be a functional, unique kitchen design that fits your lifestyle.
Work with Kraft Custom Construction
Are you ready to transform your kitchen into the heart of your home, a space that's not only stylish but also perfectly suited to your lifestyle? With our expertise and commitment to excellence, we are the top choice for your 2023 kitchen remodel. From embracing the latest trends like open kitchen designs, expansive windows, and efficient appliances to offering a wide range of kitchen styles, including farmhouse, modern, cottage, contemporary, and coastal, we have the solutions to bring your dream kitchen to life. Contact Kraft Custom Construction today and let us turn your kitchen into a masterpiece that reflects your personality and enhances your daily life.