What's the Best Kitchen Countertop Material for You?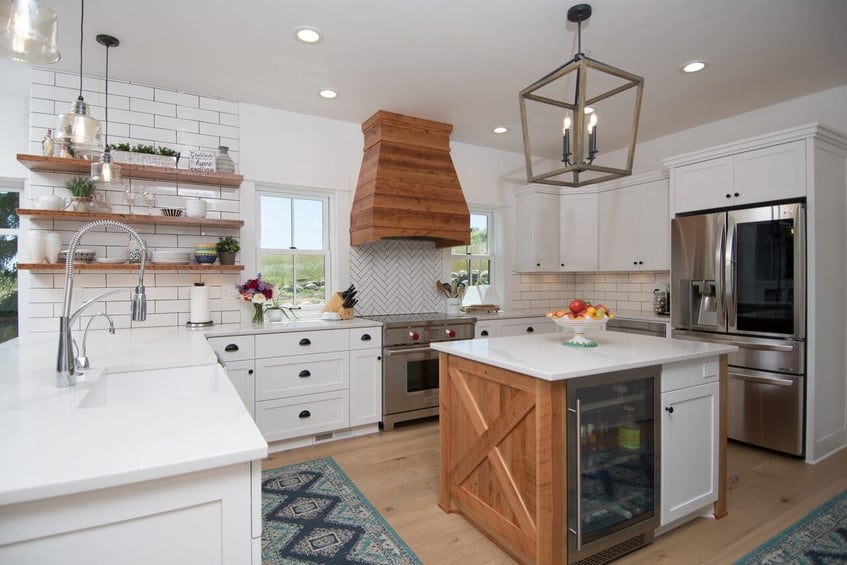 Your countertops will make up a large part of your kitchen's style. Beyond its looks, you'll also want to consider its performance, like durability and maintenance. Choose the color and specific characteristics that best match your kitchen's design, whether it's transitional or contemporary. What are the best countertop materials for your kitchen remodel? Let's talk about the most durable options, the most popular, and what type of maintenance you can expect for each countertop material for your Salem, Oregon kitchen.
Marble
Marble has held the top spot for kitchen countertop material for a long time. It's luxurious, available in several colors, and offers natural veining that can be subtle or striking. Many people choose gray or white marble, but in the past couple of years, other colors have become popular, like green, black, orange, and even pink.
Maintaining marble includes resealing the material every year because of its soft and porous texture. This will help to keep your countertops from becoming stained. Marble is heat resistant, yet it's also prone to scratching and chips. Because of this, use marble on your parameter counters and save your island for a more durable material, since this is where most homeowners prep meals.
Butcher block
The main types of wood used for butcher block countertops are teak, oak, maple, and even bamboo. Butcher block countertops offer a warmer look in the kitchen and are perfect for the kitchen island. An interesting benefit of using butcher block is its natural antimicrobial quality.
Two main types of butcher blocks are used: end grain and edge grain. End grain is made of smaller blocks of wood standing upright so that the ends are all facing upward. Edge grain is made of wood boards adhered together horizontally. Edge grain is more economical, but end grain hides knife marks better. Both will need to be oiled twice a year and can be susceptible to stains. However, a well-loved butcher block countertop will have a lived-in look over time that shows personality and charm.
Quartz
Engineered quartz countertops are stain, acid, scratch, heat, and impact resistant. They're also non-porous, meaning you won't have to reseal your countertop as you would with marble. Quartz is available in a wide range of colors and patterns, and it typically ranks close in popularity to granite, if not more popular in recent years. Quartz can be made to mimic marble fairly well in veining and color. Yet because it's engineered, you aren't limited by availability and you're more in control of the veining and color to suit your style, making it a well-liked option for many homeowners.
Terrazzo
Terrazzo has been around for centuries but has recently seen a comeback, mostly in contemporary kitchens. It's typically made up of marble chips, glass, cement, and resin. It's heat resistant and holds up well, so you can use it in your outdoor kitchen as well. Because it's made of many recycled materials, it's also a favorite of eco-conscious homeowners. Terrazzo is available in any color and can be made to have the stone and glass bits contrast the background color, or blend in for a countertop that's monochromatic.
Granite
Granite, like marble, has also been popular with homeowners for quite some time. Granite requires less maintenance than marble, but will still need care, like making sure to wipe up spills quickly to avoid staining and an annual resealing. Honed granite is an updated version of the heavily speckled and glossy material most have in mind. It offers a soft, matte finish that looks sophisticated and contemporary. Both honed and polished granite are scratch-, chip-, cracking-, and heat-resistant, making them durable and great for the kitchen.
Quartzite
Quartzite is a natural stone material that features veining and is mostly available in gray and white tones. Quartzite is as durable as granite and will need annual resealing. It's also a more affordable alternative to marble, making it a great substitute with a similar look.
Stainless Steel Countertops
Stainless steel countertops in the kitchen will give your space a contemporary industrial look. It's heat resistant, easy to clean, and resistant to bacteria. Stainless steel looks great with white, gray, black, and pops of color. Use it on your island for a surface that can take the frequent abuse of hot pots, knives, spills, and anything else that your most-used countertop surface might face.
Soapstone Countertops
Soapstone may not be high on the list as a popular choice, but it's a great one, nonetheless. It's highly stain and bacteria-resistant because it's non-porous. Soapstone also won't require resealing, but instead an application of mineral oil periodically. Oiling soapstone will deepen its color over time, giving it more character.
Soapstone is available in gray tones, from light to near black, and features subtle veining. One downside of soapstone is it's typically only available in five-foot lengths, but the seams are nearly invisible. It's a stone that's stylistically versatile, from traditional and farmhouse, to contemporary and modern.
Let's get started designing your kitchen in Salem, Oregon
When you're choosing the best countertop material for your kitchen, consider how you'll use your surfaces and what kind of maintenance you're willing to perform. Choose a color that works for your design style, and also consider using more than one material in your kitchen, like one for your parameter counters and another for your island.
When you're ready to start designing your new kitchen in Salem, Oregon, reach out to a builder that has plenty of industry knowledge about availability, performance, and costs. Having a trusted and knowledgeable professional in your corner will help you choose the very best countertops for your kitchen, so they will be both stylish and functional. Kraft Custom Construction is a highly specialized contractor made up of a team that's dedicated to tailoring your remodeling experience to your exact needs. Contact Kraft Custom Construction to schedule a consultation and let's start planning your new kitchen.