UNIVERSAL DESIGN: HOMES BUILT TO LAST A LIFETIME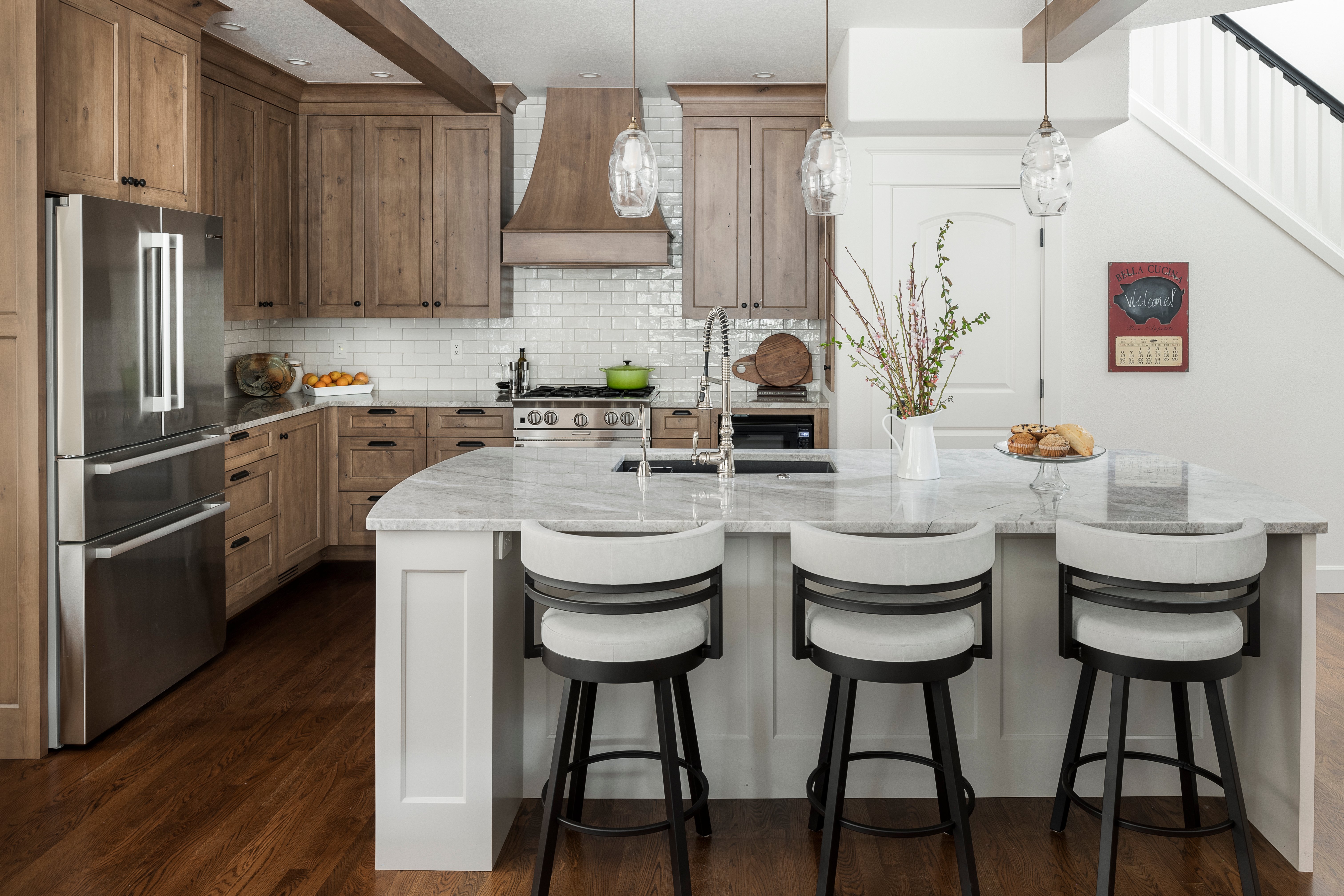 When planning a remodel, it's important to consider your current needs, as well as how they may evolve with time. Families grow, lifestyles change, and people age. When investing in your home, you want to make thoughtful decisions about layout and materials that serve you. Universal design is the key to creating a home that functions well both now and in the future. By incorporating elements of universal design, you're ensuring that your home remains accessible, functional and comfortable for everyone.
what is universal design?
In a nutshell, universal design is all about creating homes that are not only beautiful, but also built to stand the test of time. It's about crafting spaces that can adapt to the changing needs of individuals throughout their lives. Think of it as future-proofing your home.
Universal design isn't just about accommodating specific age groups; it's about so much more. The design concept is about creating homes that are durable, versatile, and resilient. It's about incorporating thoughtful design considerations that contribute to homes that last a lifetime. Trust us, once you understand the value of universal design, you'll wonder how you ever lived without it!
So, how can you incorporate universal design principles into your home renovation? Let's explore four key areas where thoughtful design considerations make a significant impact on the longevity and adaptability of your home.
FUNCTIONAL LAYOUT AND ACCESIBLE DESIGN:
When designing a home, it's essential to create a layout that not only looks good but also makes sense in terms of functionality. Universal design encourages architects and designers to think beyond aesthetics and consider features that allow easy navigation for all occupants. This might mean wider corridors, larger doorways, and accessible entrances. By incorporating open spaces, ease of flow from room to room, and ample storage, your home can adapt to your unique needs, whether it's a growing family or a desire to age in place.
QUALITY MATERIALS:
Materials not only need to be durable, but they also need to look great! You want products that can withstand the test of time, while also being stylish and design savvy. When selecting materials, consider their durability and sustainability. Investing in high-quality products may seem more expensive initially, but in the long run, it saves you time and money. Opt for materials that have a long lifespan and require minimal maintenance. By choosing this avenue, you can reduce waste, promote energy efficiency, and add lasting value to your home.
Durability is not the only thing to consider though. You want to select materials that match your personal style and aesthetic preferences, too. Your home should reflect your unique taste and design sensibilities. Consider the colors and textures; think beyond the traditional materials and be open to new and innovative products. For example, quartz countertops are becoming a more popular solution in both kitchens and bathrooms alike. They're low maintenance, durable, and available in a vast array of colors and patterns. They also provide a sleek and sophisticated look that is perfect for modern or traditional homes.
Another fantastic material option is porcelain tiles. They are versatile, easy to clean, and more durable than ceramic tiles, making them ideal for high traffic areas like entryways or bathrooms. They are also available in numerous sizes and finishes, allowing you to infuse your space with style. When it comes to flooring, hardwood and tile are classics that never go out of style. Hardwood floors provide a warm and inviting ambiance and can last for decades with proper care. Choosing materials for your home remodel is all about finding that perfect balance between durability and aesthetics. You want products that look good, but also ones that will last for years to come. Remember, your home should reflect your style, personality, and design preferences, so be open to new and innovative materials. By selecting quality options, you can achieve a space that is both beautiful and built to last.
THOUGHTFUL STORAGE:
Storage is an absolute game-changer when it comes to home design. In the world of universal design, you want storage solutions that are not only functional but also visually appealing and space-saving. Say goodbye to clutter and hello to a well-organized home! When it comes to storage, think beyond the traditional options. Consider incorporating built-in storage wherever you can, especially in rooms where space is limited, like a bathroom. Built-ins can provide a seamless and streamlined look while maximizing your floor space. Open shelving can also be a great way to add a touch of elegance to your space, and make finding your favorite items a breeze.
Cabinets are also an essential element of any kitchen or bathroom. Transform them from ordinary to extraordinary by choosing drawer and door pulls with sleek D-shaped designs. These modern and ergonomic pulls are not only pleasing to the eye but also easy for everyone to use. To maximize convenience, opt for drawers with full-extension glides and consider adding pull-out storage to your cabinets. This includes innovative solutions, such as an appliance lift for that heavy mixer or tiered organizers that glide out from blind corner cabinets. These little upgrades can make a significant difference to your daily kitchen routine.
Closets are another area where smart storage choices can have a huge impact. A well-designed closet should not only provide ample space but also be adjustable to accommodate your changing needs. Imagine having the freedom to modify your shelves to fit different items perfectly. And just like doorways, a closet opening should be at least 32-inches wide, ensuring that accessibility is never compromised. Walk-in closets should also allow for at least 5 feet of turnaround space, so you can easily navigate and find what you're looking for. Incorporating abundant and well-organized storage options into your home is an exciting design adventure. From built-ins to open shelves, stylish pulls, adjustable shelving, and smart closet layouts, there are so many ways to make your storage solutions both functional and visually appealing.
SMART HOME INTEGRATION AND EFFICIENT SYSTEMS:
There's also the exciting world of tech within universal design. With smart home integration, you can add convenience, efficiency, and security to your home. Imagine walking into a well-lit room with automated lighting or having a smart security system that keeps your home safe and secure. These modern advancements are all about enhancing your lifestyle while adding value and adaptability to your home!
Yet it's not just about smart home tech, you also need to consider efficient systems in your home design. We all want to do our part for the environment, and energy-efficient appliances, heating, and cooling systems can help you reduce your carbon footprint and save on operating costs. These systems can be a significant upfront expense, but with the right energy-efficient solutions, you can save money in the long term by reducing your monthly operating expense and contributing to a sustainable future. So, whether you're all about the latest tech trends or focused on efficiency and sustainability, there are plenty of exciting ways to incorporate them into your universal design.
To sum it up, universal design is all about creating homes that prioritize longevity, adaptability, and timeless appeal without sacrificing your unique style and aesthetic. By incorporating these design principles into your home renovation, you can build a house that not only serves you throughout your life but also effortlessly adapts to your changing needs. From functional layout and accessible design to quality materials, thoughtful storage, smart home integration, and efficient systems - universal design has you covered in the renovation process.
Trust your remodeler
Kraft Custom Construction is a boutique design-build remodeling firm with over 40 years of experience in delivering expertly crafted homes. Our team of experts knows the ins and outs of transforming homes to fit your unique needs and style. We truly listen to your vision, work closely with you every step of the way, and make sure your house is the perfect place to call home. Contact us today to schedule a consultation and discover what our remodeling process can do for you. We're here to guide you through the amazing possibilities that universal design can offer.