4 Best Restaurants in Salem, Oregon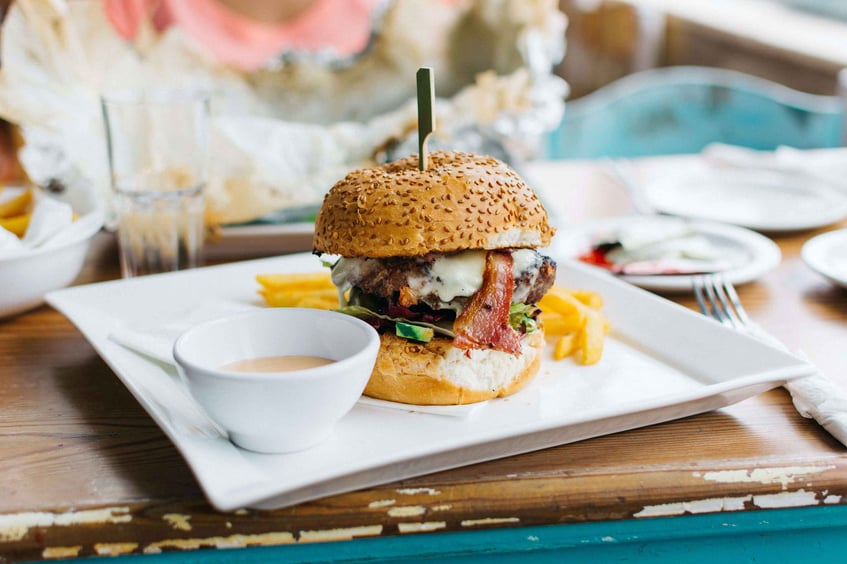 On the surface, the culinary scene in Salem, Oregon is somewhat quiet compared to nearby metropolitan areas. However, what Salem has to offer is tons of delicious food for both travelers and locals alike, when you know where to look. With many of its restaurants focusing heavily on local ingredients for a truly fresh experience, Salem's eateries are some of the most authentic and memorable you'll find in the Pacific Northwest. What are some of the best restaurants in Salem, Oregon?
DaVinci Ristorante
180 High St SE, Salem, OR
Known for its unwaveringly friendly staff, excellent wine menu, delicious fare, and upscale yet comfortable atmosphere, DaVinci Ristorante creates a dining experience that seems to hit the nail on the head every time. The restaurant's historic downtown Salem location is at once spacious and cozy, with brick interior walls, exposed rafters with skylights, iron chandeliers, rustic wooden dining tables, and hanging stained glass pendant lights.
DaVinci's seasonally inspired menu included meats and produce from local farmers. Their extensive wine selection can appear overwhelming but the staff is well-versed in suggesting just the right pairing for every dish, even desserts. Some of their most notable dishes include the beef tartare, spice salted calamari with saffron aioli, center-cut Snake River prime filet mignon with chanterelle mushroom cabernet reduction, and the Wagyu Beef hanger steak with a chipotle glaze, gorgonzola, and aged balsamic. For dessert, try their white chocolate raspberry crème brûlée or a classic panna cotta topped with honey and pistachios.
If you're interested in starting your night with a crafted cocktail, indulge in a smoked old-fashioned, a bourbon sour, or one of their inventive signature cocktails. Finish the meal with an amaro or digestif.
Rudy's Steakhouse
350 Chemeketa St NE, Salem, OR
Rudy's Steakhouse features aged and in-house hand-cut steaks as well as seafood and excellent desserts. The soups, desserts, sauces, and dressings are all made in-house, as you'd expect from this caliber of restaurant. They've even begun bottling sauces and dressings due to their popularity.
The atmosphere is festive and comfortable, especially due to the brick interior walls, large comfortable dining chairs, white linen service, and rich interior color palette. There is a large sunroom to enjoy the outdoors when it's too cold to actually dine outdoors but a lovely patio for dining when the weather's appropriate. Make a reservation and inquire about the live music that's available on some nights.
Some of the more popular menu items include the Salmon Neptune which is stuffed with Dungeness crab, bay shrimp, garlic herb cream cheese, and topped with lobster sauce, the A5 Kobe Japanese Wagyu steak, steamed clams with garlic, scallions, and tomato concasse, and of course a variety of steak cuts. The house-made desserts are made daily, with the most notable being the marionberry cobbler or blueberry bread pudding.
Try one of their fresh fruit-infused cocktails, such as the marionberry lemon drop or mojito. The crafted specialty cocktail menu is quite varied and larger than most. Start or finish dinner with bourbon from their extensive collection.
The Cozy Taberna
249 Liberty St NE #140, Salem, OR
Located in Salem's Electric Alley, The Cozy Taberna offers a Spanish tapas social experience. The historic location lends a lot of character to the restaurant, including enormous exposed wood beams, factory windows, and large roll-up garage doors that let in lots of natural light and access to fresh air. Dining at The Cozy Taberna brings a feeling of sophistication in a relaxed and convivial environment.
Reservations at The Cozy Taberna are available in four different options. The first is the main dining room, outfitted with mostly booth seating. The 21+ bar seating is in the front of the restaurant, just behind those impressive garage doors. For a more immersive experience, make your reservations at the Chef's Counter. You'll have a front row seat to the open kitchen and the intricate coordination between the culinary team and the chef that eyes every plate before it leaves the kitchen. Finally, the Cozy Lounge Lower Level, also 21+, is located on the lower level and offers a unique, and often quieter, dining experience. Reserve the large table for a private party and prix fixe menu.
Speaking of the menu, the Spain-influenced offerings are designed to share and are exquisitely presented. Guest favorites are plenty, but a small sample are the goat cheese dumplings with arrabbiata and manchego, the grilled marinated carrots with hazelnut puree, chimichurri, pickled beets, and pearl onions. As for larger dishes, try the squid ink pasta with garum and caramelized onions, or the cedar plank salmon with salsa verde. To finish off your incredible meal, go for the chocolate stout affogato with vanilla ice cream or lemon bundt cake.
In keeping with the meaning of taberna, The Cozy Taberna features a large cocktail bar with specialty cocktails, an extensive wine list, and almost two dozen local brews.
Wild Pear
372 State St, Salem, OR
The Wild Pear is located in the historic district of downtown Salem in a charming building built in 1880. The restaurant is an excellent place to refuel with delectable dishes and exquisite desserts between shopping at the surrounding boutiques and visiting the area galleries. The atmosphere of this eatery is lively, cozy, and contemporary.
Wild Pear Restaurant & Catering began with two sisters. One is a graduate of Boston University's Culinary Arts Program and training under Julia Child, and the other with extensive experience in the hospitality industry and creative design. Their restaurant churns out flavorful, seasonally-inspired menu options that reflect regional Northwestern cuisine as well as the sister's heritage and include local ingredients.
The Wild Pear features dishes that are familiar but with inventive flavorful twists. Some of the most popular dishes include coconut curry butternut squash soup, flank steak salad with smoked paprika vinaigrette, the BBQ thai banh mi sandwich, and the roast beef and blue cheese sandwich with house-roasted beef, balsamic caramelized red onions, lettuce & tomato. Pair a sandwich with their truffle sweet potato fries, or order a plate to share with the table. Their signature salad is the Wild Pear Salad, with candied pecans, fresh pears & blue cheese on a bed of organic mixed greens with house-made roasted pear vinaigrette.
The Wild Pair features plenty of gluten-free, vegan, and vegetarian options as well. Be sure to leave room for dessert, as the restaurant offers plenty of desserts that are as beautiful as they are delectable.
After the Wild Pair lost one of its founders in 2020, the restaurant now also hosts a memorial fund that chooses a new recipient of charitable contributions on a quarterly basis, which is in keeping with the founder's work in life.
Creating a Delectable Restaurant Experience Right at Home
When you've tasted your way through Salem's most notable restaurants, cure your cravings right at home in your own luxury chef-worthy kitchen. If your kitchen lacks the space and equipment necessary to recreate your favorite restaurant dishes, it may be time for a luxury remodel. Update your kitchen with finishes, features, and smart amenities that will bring you joy in the hardest working room in your home. Talk to Kraft Custom Construction about your kitchen cuisine and design goals and we'll help guide you through the process to create an unexpectedly enjoyable remodeling experience.